The Super Simple DIY Project That'll Give Your Home An Instant Upgrade
Shutterstock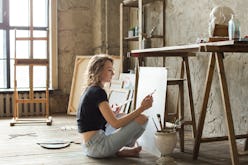 With everything going on in the world, most people are stuck at home with little to do — besides watching people work out on their Instagram stories, that is. And though taking the time to binge a show on Netflix, take extended bubble baths, or learn new recipes is definitely worth a try, you can also take on some DIY home projects to fill up your schedule a little bit.
Now don't get me wrong: If you don't want to be productive during these uncertain times, you absolutely don't have to. I'm totally guilty of plopping down in front of the TV with two pints of ice cream and vegging out for a few hours, but I've also really enjoyed using all of this newfound free time to take on projects that make my space a little more cozy.
I've always been pretty crafty and have loved DIY-ing any and all projects that can save me a bit of money (and keep me occupied in the process), so quarantine has actually been a gift of sorts. I have found time to pick up unfinished projects that I started over a year ago, and to take on new things to make my house feel way more homey and personalized. And since I just moved into a new place right before the lockdown started in LA, there's definitely a lot to do.
Below, check out some easy DIY projects for you to try while you're social distancing at home. They're all relatively simple, even if you're not crafty at all, and you'll be able to bring in some new, customized pieces into your home without working out your wallet.