Need A Confidence Boost? Helen Mirren Knows The Most Glamorous Pick-Me-Up
George Pimentel/WireImage/Getty Images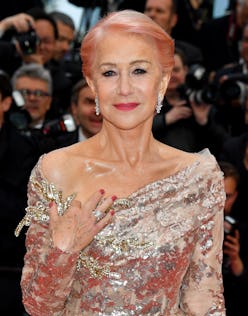 We may receive a portion of sales if you purchase a product through a link in this article.
When Helen Mirren needs an instant confidence boost, her approach is like something out of a movie. First of all, you need to know that Mirren doesn't bother to chase any sort of beauty ideal — she prefers a different term for when she's feeling herself. "I've always had an issue with the word beauty," she explains. "I think it should be called the swagger industry. We know we're not necessarily beautiful the way some people are beautiful, but we don't need to be beautiful — but we need to have self-confidence and swagger and take our space." And Mirren's recipe for instant swagger? "I tell you, red lipstick and sunglasses go an awfully long way."
Really, her answer to a run-of-the-mill question kind of encapsulates so much of what makes the actor such a beloved figure, even off-screen. Mirren's thoughtful, taking a moment to chew over her answer in real time before describing how she feels in that plummy, instantly-recognizable voice that makes even her skin care routine rundown sound like a big-budget movie voiceover. She'll offer something incisive and silly in the same breath, and it's immediately easy to see why both audiences, award committees, and brands have been smitten with the star for so many decades.
Ahead, the beauty icon breaks down her favorite winter products, how she preps for major red carpet moments, and the real story behind one of her most viral look yet.
The Beauty Stars She Admires
Even A-listers have celebrities they revere, and Mirren is no exception. For her, she explains, the best are those who use fashion and beauty to boldly experiment, who use their aesthetics as extensions of their art and personality. Mirren ticks off Harry Styles, Billie Eilish, and Lady Gaga as a few of her favorites — "a lot of my references are out of the music world, interestingly enough," she muses.
Mirren describes their style spirit as audacious, marked by a willingness to push the envelope. "I was very much of that ilk when I was younger. I think now, although I still like to push the envelope to a certain extent, but I'm sort of aware of how old I am and I should sort of dress appropriately," she adds wryly.
How She Preps For The Red Carpet
Mirren's attended high-profile industry events for decades now, and her veteran status means she has a particularly keen eye for what translates well in front of the cameras. If you're uncomfortable, she tells TZR, it's usually rather apparent. "It translates immediately into the way you stand, the way you look, the tension in your face," she says. Mirren explains that she often sees beautiful women looking tense and stressed-out on the carpet, which is why she prioritizes enjoyment and fun above all else in the getting-ready process.
It all starts with her hair and makeup team, whom she's worked with for quite some time now. "We're mates and we have a laugh as we're getting ready," she says, and she trusts their vision for her looks. She asks what they're thinking for that particular occasion and every so often offers a suggestion, but largely likes to sit back and watch the creative process unfold. "In my whole life, whether it's script-writing, or costume, or hair, or makeup or anything, I'm a great believer in letting creative people be creative — not trying to control them," Mirren says. The best results come from allowing that artistic expression to simply flow.
One look that was her idea? Mirren's sky blue hair at the 2023 Cannes Film Festival. "I sat in the chair and I said, 'You know, Stephane [Lancien], I'm thinking that because I got this great blue dress, I think it'd be lovely to have blue hair to match." Lo and behold, the International L'Oréal Paris Hair Artist just so happened to have tons of blue hairpieces and extensions right there in his kit — some very stylish serendipity. "He just had it on him, he was prepared for anything," Mirren marvels. "I could not believe it. I was absolutely blown away. But that was it, that was a great coming together of the dress, the hair, the look — the whole thing was great." Mirren's blue Cannes coif went instantly viral, immediately immortalized as one of the festival's best-ever beauty moments.
Her Skin Care Must-Haves
For five decades now, Mirren's been admired for her elegant-meets-edgy looks. They start with excellent skin care. She tells TZR that she's a big fan of the L'Oréal Paris Age Perfect Rosy Tone cream. "It's...not foundation, but moisturizer, which you can use and don't really have to put foundation on top of it," she says, and "it just gives you a lovely sort of pinky warm glow." It's a nice thing to have in the wintertime, she adds — "you can't put a heavy foundation on in the winter." And on the subject of dryness, one of the first things Mirren mentions is her commitment to a rich all-over lotion. "I'm very, very into body moisturizer at the moment," she says, even sharing that she applies it up to three times a day.
As a longtime face of the brand, her affinity for L'Oréal extends beyond just products. "Having Jane Fonda and Andie MacDowell as ambassadors long before me and allowing them to grow up with a brand or grow old with a brand and go through all the phases that we do go through as we go through life was very forward-thinking," she says. Mirren's right — and the swagger industry hasn't been the same since.