Billie Eilish's Ginormous New Tattoo Takes Her Love For Body Mod To The Extreme
It's her fourth piece so far.
@billieeilish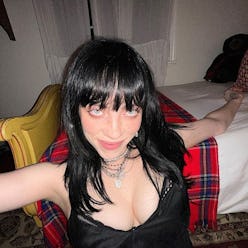 Ah, youth. A time for fun, experimentation, and just-because body modifications. Billie Eilish, a patron saint of Gen Z, has never shied away from bold beauty choices — neon hair dye and extra-long nail extensions have been part of her signature look from Day One. But even for her, this latest choice is about extreme as it gets. Photos of Eilish's new back tattoo were shared so nonchalantly to her Instagram, hidden in an ordinary-seeming photodump. In the shot, several long, swirling, blurred-out lines snake up her back, an abstract piece of art that runs from the nape of her neck all the way down to the waistband of her pants. Eilish didn't give any context for the tattoo and has yet to share the inspiration behind it, but her fans are already trying to parse out possible hidden meanings.
In the photo, look to the lower left and note what looks like reference images or transfer stencils used to perfect all those intersecting lines. Eilish tagged the tattoo artist, Matias Milan, whose portfolio is filled with similarly trippy body art. The "What Was I Made For?" singer shared a brief glimpse at the tattoo's upper portion back in September, but did anyone expect its massive scale?
Unsurpisingly, this isn't Eilish's first tattoo, though it's by far the biggest. Her first was the name "Eilish" is ornate script across the center of her chest, done just after her first Grammys Awards though fans have never — and according to the star, will never — actually get to see it. There's a duo of storybook fairies on her left hand, and a much larger dragon that winds from the right side of her stomach all the way down to the middle of her thigh.
Eilish's new back tattoo is also her most abstract piece, with fans discussing possible motivation in her comments section. Some speculate it's a depiction of some sort of portal, while others think that she may simply just love the artfully chaotic design. Only time will tell if Eilish decides to do a big reveal, but in the mean time, it's always fun to theorize.