Helen Mirren's Surprisingly Long Hair Made A Rare Appearance On The Red Carpet
Samir Hussein/WireImage/Getty Images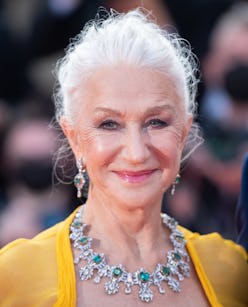 We may receive a portion of sales if you purchase a product through a link in this article.
A list of what makes Helen Mirren such a generation-spanning icon could never be exhaustive — she's so full of surprises, there's always something new to add. That doesn't just apply to her always-interesting role choices or even her delightfully colorful award show wardrobe. Mirren happens to be one of Hollywood's most low-key beauty influencers, but her impact is farther-reaching than many might realize. When fans caught sight of Helen Mirren's long silver hair left free-flowing in gently curled waves at the 73rd Berlinale International Film Festival, it was more than just a stunning red carpet moment. A self-possessed woman daring to let her natural hair color grow long shouldn't feel like a revolutionary statement, but in an age-obsessed era, it is indeed.
The gently side-parted waves featured a few soft bends through the mid-lengths and ends, falling just above the elbows of her black, puffed-sleeve gown. Walking the carpet for the festival premiere of her new film "Golda", Mirren's look is an elegant and classic one. Though far from the first time she's worn her naturally silver-gray hair down at a high-profile event, it's one of the few occasions on which she skipped any accessories for a full, unobstructed view.
Adequate representation of older women still has a long way to go in the beauty and fashion industries, but it's celebrities like Mirren who help further the cause simply by being themselves — all multiplied by star power, of course. If there were ever a role model for damning societal expectations, it's Mirren. In a 2020 interview with People, she shared she originally stopped coloring her hair because it was simply too much effort, choosing to embrace her gray hair and the limitless possibilities that come with it. "I think women were just so terrified of having white or gray hair because it immediately put them into a different category," Mirren told the magazine. "And of course, you are in that age group. So why not just embrace it, go along with it, and welcome it? Make it a positive thing as opposed to a negative thing."
In this instance, it's as much her hair length as it is color — maybe even more so. Outdated societal rules about the "age appropriateness" of hair longer than shoulder length are slowly losing steam, which will only accelerate the more its seen and normalized. Mirren regularly chooses to emphasize her own silver-gray hair with bold accessories like headbands, even using the light color to experiment with temporary dyes in fun colors.
Gray, silver, and white hair does require a bit more care, though, as the individual strands' cuticles are thinner are therefore more fragile. Mirren told Allure in 2020 that she rarely uses heat on her hair, preferring to air-dry for minimal damage. With excellent conditioners and toning shampoos to ensure no yellow or brassiness breaks through the silver, there's never been a better time to go gray.
Shop everything you need for lustrous, healthy silver hair just below.