Hailey Bieber Broke Up With Blonde In Favor Of Fall's Warmest Color Trend
@haileybieber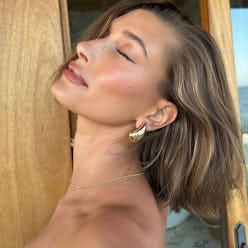 Historically speaking, Hailey Bieber is usually well ahead of the curve when it comes to fashion choices and beauty trends. Long before so many looks go viral, she's already worn them — often a few times, in fact, helping propel the craze to new heights. As autumn 2023 slowly creeps into frame, Bieber's basically already there thanks to an unexpected aesthetic shakeup. Parting ways with the golden blonde highlights that have become part of her minimalist signature, Bieber's new cinnamon hair color combines warm browns with a light, airy copper for a fall-friendly feel that's surely about to be everywhere.
Dubbed "cinnamon cookie butter" by celebrity colorist Matt Rez, the shade's brilliance lies in its subtlety. Though just a few degrees different from her previous look, the blend of tones are more than a little revitalizing. Rez, who also works with other big beauty stars like Adele and Kendall Jenner, shared a first look at Bieber's cozy new color on Instagram. In the video posted, it looks like the warm "cookie butter" brown acts as something of a base, with the redder cinnamon shade concentrated around Bieber's face for extra warmth and dimension. The effect is sort of like a money piece, albeit one that covers much more surface area — the pop of color stands out just enough for some pretty contrast.
The fall-friendly tones might just be Bieber's way of wading into the viral "cowgirl copper" hair color trend that's won over more than a few fellow celebrities — think Emily Ratajkowski — already. Defined by warmth and a lived-in feel reminiscent of worn saddle leather, Bieber's version is perfect for the non-committal. Her look offers the same earthy, fireside vibe, but without a full-blown color transformation and the damage to hair that often comes with it.
Expect to see plenty more celebrities migrate over to the copper hair color trend as temperatures start to cool down. Full-fledged fall might feel still a ways off, but taking a page out of Bieber's book and starting in on the trends now means plenty of time to try them all before the next season rolls around — not to scare you, but some stores are already rolling out the Santa figurines. Brace for impact.