Hailey Bieber's Chicken Wing Recipe Is A Crispy Masterpiece
It's perfect for your next summer party.
@haileybieber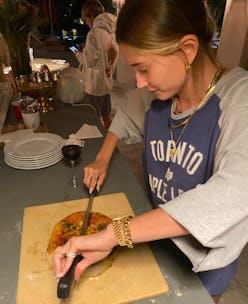 Now that fans have gotten familiar with her bathroom and closet, Hailey Bieber is now allowing everyone into her kitchen, with her new(ish) YouTube series What's In My Kitchen?. Launched earlier this year, the cooking franchise shows the model making her go-to everyday recipes, from chocolate chip pancakes to Brazilian cheese bread (with her Nana Ruth!). Bieber's latest episode, however, will really get mouths watering, as she creates her favorite air-fried chicken wings. According to the model, said wings do not have an official name, as they are a signature concoction that she created, starring an indulgent buttermilk marinade and a spicy Japanese BBQ sauce to toss the crispy pieces in as a final step.
"Some people just can't handle that wing life, you know what I mean?" Bieber jokes at the top of the April 12 episode, sponsored by HexClad. It seems she definitely can handle it, as evidenced by her hands-on approach to whipping up a batch of finger-licking-good wings. Dressed in the perfect ensemble for chic at-home entertaining — a cropped long-sleeve tee, low-rise denim, and chunky gold hoop earrings — at first glance, the model did not look ready to get down and dirty in the kitchen. But, in a refreshing move, she was quick to roll up her sleeves and get her glossy pink manicured hands in the bowl of coated chicken to thoroughly mix things up and ensure each piece was properly coated. What a pro.
To be clear, while fairly simple in execution, this recipe is not for those short on time, as it requires two-hour marinading time and about 30 minutes for total cooking in the air-fryer. However, the ingredients are incredibly simple and likely things you already have in your kitchen. So, if you're looking for a quick and easy recipe for your next outdoor soirée, this could be the one to keep in your back pocket. From the looks of the final product, it's a crowd-pleaser. Take a look at (and bookmark!) the full tutorial above or see the written recipe on the HexClad website.