Hailey Bieber Used This Brilliant Styling Technique Twice In One Week
@haileybieber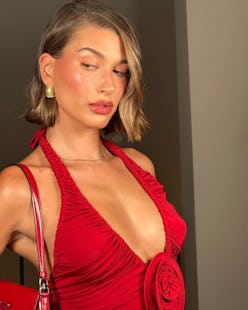 We may receive a portion of sales if you purchase a product through a link in this article.
If you were to ask a fashion person who their top five favorite street style stars are, we have a sneaking suspicion Hailey Bieber would be on the list, perhaps even rank number one. That's because whether she's wearing oversized silhouettes or sporty athleisure, the Rhode Beauty founder never fails to look next-level cool. And this week has been particularly stellar for her in terms of style, as she blew fans away with some of her best outfits to date. Bieber managed to do this by employing the bag styling trick of matching her accessory to another item in her outfit. The genius fashion move makes any look feel planned out and effortlessly elevated.
The first color-coordinating moment came on Aug. 14, when the fashion muse was on her way to a business meeting in Beverly Hills. For the work outing, the A-lister teamed a silky neon green Prada top with an oversized Bottega Veneta clutch in a similar vibrant hue. Next, she grounded the bold look with low-rise jeans, gold jewelry, and high-shine black loafers. Then, two days later, Bieber took a more casual approach to creating a cohesive outfit. While out for date night at Giorgio Baldi in Santa Monica, the star paired Bottega Veneta's Pouch Bag in orange with citrusy athletic shorts. The rest of her laid-back look consisted of an oversized leather jacket, a vintage Monet Art Institute of Chicago tee, and Nike Air Max sneakers. We love how she managed to stay comfy yet still look dressed up.
Bieber always keeps the bag-to-outfit matching scenario up her sleeve, as she's donned other color complementing looks in the past — many of which involved Bottega Veneta, naturally. Take her buttery yellow look from March, pictured below. The star brilliantly paired a fuzzy BV bag to her mustard-hued Marni trousers, and Jil Sander heeled mules. Or, perhaps you'll recall in December 2020, Bieber posted an IG wearing two matchy-matchy pieces — a quilted vest and a mini Jodie bag — featuring BV's signature hue: emerald green.
To pull off Bieber's go-to styling hack instantly, shop the colorful pairings ahead.