Celebrities Have Spoken: This Is 2023's Most Popular Shoulder Bag
Dua Lipa and Kylie Jenner love it.
@dualipa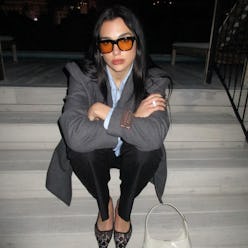 We may receive a portion of sales if you purchase a product through a link in this article.
There's a friendly competition amongst designers when they create accessories, as everyone covets that prestigious title of making the next It bag. You'll recall back in 2021, Fendi's Baguette style took home the sartorial prize thanks to Sarah Jessica Parker's endorsement of it on And Just Like That. Then in 2022, Coperni's Glass Swipe Bag and Diesel's 1DR Bag battled it out for the title — both were winners in our opinion. As for this year's must-have carryall? Ferragamo's Shoulder Bag with cutouts is undoubtedly in the lead for first place. That's because fashion darlings like Kylie Jenner and Dua Lipa are already carrying this accessory nonstop.
In January, Jenner was spotted with the Ferragamo bag at Haute Couture Week Spring/Summer 2023. Per usual, the beauty mogul went in a sultry styling direction by pairing the black cutout purse with a full Lado Bokuchava look. She wore the brand's bondage-inspired buckle blazer, a coordinating slit midi skirt, and a pair of knee-high boots. For those unfamiliar with the Georgian designer, his eponymous label launched in 2017 and he's known for creating unique, retro-futurist designs. Jenner then accessorized with Burberry's Geometric Frame Marlowe Sunglasses and D'heygere's Ballerina Nail Earrings.
Last month, Lipa co-signed the emerging purse, wearing it two days in a row while out in New York City. First, on March 7, the "Levitating" singer sat courtside at a New York Knicks game while wearing a Ferragamo Pre-Fall 2023 head-to-toe ensemble. Her look consisted of a black suede pleated jacket, matching miniskirt, knee-high boots, and, of course, the red-and-black cutout bag. Then the following night on March 8, the Grammy-winning musician stepped out in SoHo with the bag on her arm yet again. This time, Lipa styled the accessory with a bomber jacket and sweater from Chopova Lowena's Fall 2023 collection, Calvin Klein jeans, and Prada's Cloudbust Thunder sneakers.
Gotham/GC Images/Getty Images
Gotham/GC Images/Getty Images
It's no surprise the Italian luxury label's pieces are popping up on the celebrity set, as Ferragamo has been an industry favorite ever since Creative Director Maximilian Davis took the helm in March 2022. Since stepping into the role, the 27-year-old designer has reinvigorated the brand by ushering in a sophisticated and sultry new look. Now with both Jenner and Lipa's stamp of approval for his accessories and ready-to-wear, there's a very good chance every other A-lister will want to rock the brand in the upcoming months.
Get ahead of this fashion trend curve and shop the season's It accessory, below.