This Is The 2023 Way To Dress For Coachella
Flower crowns need not apply.
@aimeesong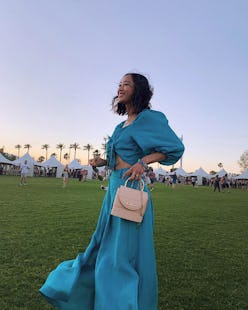 Sponsored

Style Oasis
We may receive a portion of sales if you purchase a product through a link in this article.
It's become a common quip to dismiss Coachella as a street style spectacle. After all, when the first festival was held in 1999, attendees were arguably more concerned with inching up to the Rage Against the Machine stage than photographing what the celebrities and It girls in attendance were wearing. But as the years and decades have unfolded, the spotlight has indeed bifurcated between the musical performers and the fashionable fans. No longer is Coachella only about the music — and, really, that's something to be celebrated. The event has evolved into a platform for self-expression, whether that's by means of cowboy boots and band tees or tie-dye and cutoffs.
This year, now that many public health-related restrictions have been lifted, is likely a time many will find themselves returning to the desert for a week or two of music and parties. But what should they wear? "We believe that authenticity is key," Corianna and Brianna Dotson, twin DJs and co-founders of sunglasses brand Coco and Breezy, tell TZR. "It's about feeling comfortable and taking advantage of the opportunity to wear clothing that you may not feel confident wearing on a typical day, by using the music festival as an excuse to express yourself freely." Depending on who you are, this expression can manifest across the spectrum.
According to longtime influencer and Trop Rouge founder Christina Caradona, fashion has entered an era where anything goes — and that mentality certainly applies to music festival season. "The coolest outfit [comes from] when you're being completely yourself," she says. "Personally, I feel the age of flower crowns is behind us. It's all about embracing your own quirky musical taste. I've noticed both super simple (jeans and a band tee) and super-over-the-top-outfits (platforms and leather chaps) recently, and both worked because of how confidently the person was wearing them."
All this said, Coachella is a multiday music festival in the desert, and some practical rules do apply. "In the scorching daytime heat, it's essential to opt for lightweight and comfortable clothing," Dotson says. "We always recommend carrying a cute sweater or jacket that can be easily tied around the waist for when temperatures drop significantly at night."
And while you may be tempted to slip into a pair of flip-flops, sensible footwear is a must. "You're going to be on your feet for the majority of the [weekend], so now is not the time to break in those new boots," Caradona says. "A good sneaker from Spalwart or some already worn-in cowboy boots with jean shorts is my easy go-to. I like to be realistic and ask myself, 'Will I be comfortable and warm later?'"
Beyond strategically bringing pieces like light layers (and extra layers for evening shows, for that matter), perhaps the most important style tip is to not overthink your wardrobe. "You're here to have fun, so have some fun with your style," Caradona says. "You don't need to wear every trend, nor do you actually need to wear trends at all. I like to ask myself what my favorite band or artist is, and then take it from there."
Ahead, TZR has shopped out six head-to-toe outfits to kickstart your Coachella packing.
Flowerchild Chic
"In the early days of Coachella, the boho style was very prominent and recognizable," the Dotson twins explain. And while they point to attendees showcasing "more electric, fashionable, and stylish looks" now, there's still room to explore a free-spirited look that doesn't feel dated. Begin with an airy dress that won't cling to your skin (this white pick from Merlette is beautiful, but if you're worried about stains, you can always switch to its black or navy version) and complete the outfit with worn-in cowboy boots, a woven crossbody bag, and wire-frame sunglasses.
Short Story
Invest in a pair of timeless denim shorts and you'll never be short on warm-weather outfit ideas. This pair from AGOLDE hits at the perfect spot on your waist, and the leg silhouette darts out slightly, making them especially comfortable to walk around in. Pair the design with a drawstring crop top, chunky sandals (a sturdy sole is key in the desert), and colorful jewelry.
Graphic Novel
Music festivals and band tees are like farmers markets and straw totes — they're made for each other. As such, build a look around a printed T-shirt and pair it with statement pants (these see-through bottoms from YanYan more than fit the bill). Tie the outfit together with a pair of low-key sneakers and a hands-free belt bag for an unfussy finish.
Neutral Territory
If ever there were a place to break out the neon, it's Coachella. But if a zippy palette doesn't speak to your personal preferences, opt for the other side of the spectrum with earth tones. Plus, because you'll be in hot West Coast conditions, hues like khaki, sand, and creams will feel right at home in the scorching sun.
Breeze On By
If the idea of walking under scorching UV rays for three days feels borderline anxiety-inducing, you'll need to pack two very important things: breathable layers and sunscreen. This linen top is light and versatile, and the collar gives it a slightly polished touch. Pair it with low-key boxer shorts and personality-packed accessories like rainbow-hued jewelry and a straw bag. For footwear, go for high-top sneakers or durable sandals.
It's Electric
Even if you wouldn't normally wear a psychedelic print in your day-to-day life, Coachella is the kind of place where you can dip into an alter ego and have fun with pulsing colors, patterns, and silhouettes. Team this bold dress from Ganni with a technicolor necklace, a woven backpack, and high-top sneakers for a look that's playful and comfortable enough to wear for hours on end.