Emma Chamberlain Is Taking This Scary-Chic Makeup Trend Mainstream
Daniele Venturelli/Getty Images Entertainment/Getty Images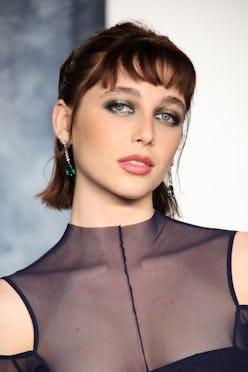 Emma Chamberlain built her enormous career on hard work and talent, yes, but as an original influencer, much of it is in her ability to spark and spread trends — no matter how extreme they may seem at the time. And actually, she's often credited with making those wonderfully wild outfits, haircuts, and accessories feel more accessible than they might otherwise. Most recently, she's turned her magic touch to a very controversial makeup choice. Emma Chamberlain's red eye makeup is already beloved by the glam-goth set for its haunting, undead-looking effects on the eyes, but she could very well be the one to take the look fully mainstream for the first time ever.
In true Zoomer fashion, Chamberlain shared a shot of the (very cool) eye makeup on Instagram, buried deep in a photodump enigmatically captioned with coy sunglasses'd emojis. Somewhere between her poolside setup of Diet Coke and Vacation SPF oil and an Acne Studios-branded lollipop, the social media star can be seen with a ring of bright red smudged out through her lower lash line. Interestingly, it's the only pop of color in her look, with her complexion makeup, lips, and upper lash line kept classic and relatively minimalist.
The professionally-applied makeup was part of Chamberlain's look at Acne Studios' Miami store opening, though it's still unclear exactly which artist is behind it. The expert-level concentration of color through the lash line — offset by crisp black liner in her upper and lower waterlines — is the key to nailing red eye makeup. Red is statement-making enough on its own that even a simple stripe of color is enough to emphasize its edge. Of course, it's all heightened by Chamberlain's very of-the-moment haircut, known in many circles as a "cub cut."
Somewhere between a tousled, layered wolf cut and a traditional, shoulder-clearing bob, the cub cut is low-maintenance but attention commanding. Chamberlain herself is part of the celebrity coterie popularizing more extreme hair choices in general. She lopped off her longer brunette hair this time last year and has oh-so-casually dropped several bolder haircuts — and colors — since. With so many trends still left to explore, who could even blame her?