How Dressing Weird Became The Ultimate Fashion Flex
@tinyjewishgirl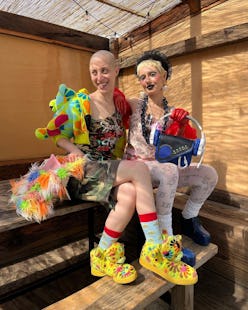 I'm being chased down the street in broad daylight.
It's the start of New York Fashion Week, and I'm wearing something kooky: A fuzzball jacket, a pink crop top, a pile of Skittle-colored necklaces, and massive bell-bottoms made entirely from vintage Ferragamo ties. They're by Greer Knebel, a 22-year-old designer who creates new textiles from trash-bound old clothes. She crafted these pants as part of her SCAD senior thesis. They weigh, like, 10 pounds and make circles the size of popcorn bowls when I walk — or in this case, run.
"Wait up!" says the stranger chasing me. "I wanna talk about those pants!"
He wasn't the only one. Over the course of two hours, I was also stopped by a hippie grandma from Detroit ("Those flares bring back memories, girl!"), a teen clique from Maryland ("Ohmigod, those are so cool, where did you get them?"), and a paparazzi photographer who'd just stalked Margot Robbie ("Hold up a minute, are you a stylist?"). One woman literally pulled her Ford Bronco over to ask me about my outfit… but my favorite was the 6-year-old on the subway who shouted, "Your legs look like dirty rainbows!"
Arriving outside the Collina Strada show, I expected flashbulbs. After all, these pants got me followed from Williamsburg to Soho. Surely they'd score me a Street Peeper clip? Nope, not even close. The outfit I found remarkably strange was actually… normal, at least among the crowd of fashion insiders. To my left was musician Dorian Elektra in a bright green Annakiki overcoat and MSCHF's infamous red cartoon boots. To my right was Vogue China's Margaret Zhang with flame-blue hair, a jacket with pink fuzzy trim, and tiger stripe boots. The artist Richie Shazam unzipped her puffy silver jacket to reveal a crop top with "69" written entirely in safety pins. Then the (official) fashion show began, and Tommy Dorfman walked by in a frothy silk slip and elf ears, because, why not? She got a standing ovation.
Richie ShazamDaniel Zuchnik/Getty Images Entertainment
Dorian ElektraDaniel Zuchnik/Getty Images Entertainment
Tommy DorfmanAlbert Urso/Getty Images Entertainment
Collina Strada's runway finale crystallized a new rule for fashion's inner circle: In a time of bought-and-sold credibility, looking "weird" is the most elite thing you can do. From Elena Velez's ripped and patched-together fabric collages to Anya Taylor-Joy's gold hot pocket-like Schiaparelli look, there's ample proof that today's ultimate luxury isn't a logo bag, a streetwear score, or a carelessly cool black blazer from Paris. Instead, the biggest flex is currently "courage dressing," the act of bravely wearing clothes that express — as loudly as possible — exactly how you feel, and who you hope to be. And if that vision of yourself is a little (or a lot) weird? Good, because that's the whole point.
"Bravery is beauty," says Julia Fox when asked about the trend. "You've just got to know yourself." She arrived at Jackson Wiederhoeft's catwalk in a spangled pink evening gown embroidered with a giant poodle, drawing delight (and selfie snaps) from teens grabbing pizza nearby.
Julia FoxRachpoot/Bauer-Griffin/GC Images/Getty Images
Backstage at the Elena Velez Fall/Winter 2023 ShowDominik Bindl/Getty Images Entertainment
"I think of clothes as both inside-out and outside-in," adds Jordan Roth, the renowned theater producer and couture client whose regal riffs on eveningwear recall Holly Golightly — if she ditched Tiffany's to become the sovereign queen of Mars. "They are a way of expressing outwardly what I feel on any given day inwardly, but also a way of reminding and igniting my inner self." From a practical standpoint, dressing for bonkers beauty instead of tracking trends can also save money — even if you invest in designer pieces.
"I used to chase trends," admits Anahita Moussavian, the fashion editor and stylist whose glitter-fueled aesthetic inspired Sarah Jessica Parker to name her bedazzled Pilgrim Heel The Anahita. "Now that I buy what I know makes me happy, I wear it for years instead of weeks… Can you imagine having a Saint Laurent tiara and only wearing it for the one season it's on all the billboards? Please. I'll never let mine go!"
"Weird girl dressing" has always existed — remember Anne of Green Gables begging for giant puffy sleeves circa 1908? But since clothes were costly for most of human history, going gonzo was once an aristocratic luxury. "Crazy couture" became more visible in the 1920s, when surrealists like Salvador Dali and Marcel Duchamp partied with style arbiters like Elsa Schiaparelli and Josephine Baker, creating a hotbed of bizarro style. By the 1940s, French teenage girls tried to resist the sinister sameness of the Nazis by dressing as "zazous" — rough translation: "weirdos" — in huge old crinolines, clashing colors, and "ridiculous concoctions on their heads of flowers, vegetables, straw, cascades of ribbon and even an upside-down bird," according to Les Parisiennes author Anne Seba. Two decades later, Vivienne Westwood's punk pieces raged against the corporal British conformity, helping upend gender norms and class barriers, while giving the world some very cool coats. As punk went from the streets to the movie theaters, Pretty in Pink and She's Gotta Have It centered creative misfits in Reagan-era America. The '90s rave culture took things neon, mixing the artificial haze of chemical drugs with the sticky, sweaty reality of available sex. (Speaking of available sex, it's not a surprise that more mainstream starlets could wear odd outfits with zero pushback — but only if they were considered "hot." Pamela Anderson's nutso furry hat in 1999 was considered "cool" but Bjork's swan dress in 2001 was pilloried. For the record: both rocked.)
Today, looking "weird" can encourage online engagement, and therefore make wannabe fashion professionals a lot more money. Ironically, it can also serve as a means of fostering IRL connections in an increasingly digital world. "I've met some of my best friends because of my clothes," says Clara Perlmutter. The 24-year-old content creator behind @TinyJewishGirl arrived at a recent fashion show in a neon Jeremy Scott x Adidas Originals teddy bear suit; she's also worn an Ashley Williams miniskirt stamped with a fluffy cat covering her you-know-what, and knitwear the color of Lite Brite pegs by her friend (and fellow Weird Girl) Ella Emhoff. "I feel like I can always build a community based off of wearing vibrant clothing," Perlmutter says. "People are just more open if your outfit makes them smile!"
If you'd like to inject some Weird Girl vibes into your own closet, the rules are nonexistent. (In the words of Ms. Fox, "If you love it, you must wear it.") To start small, Moussavian recommends pairing a standout accessory like a kooky cookie handbag from Puppets & Puppets or a fuzzy pink heel from Revolve. Streetwear can also be an easy entry, because why wear a plain black hoodie with your Mother jeans when you can go with a pierced Yusho Kobiyachi track jacket from Café Forgot? Beauty products are also a low-commitment way to amp up. Swap some regular eyeshadow for TOOD's biodegradable glitter sticks and Huda Beauty's purple chrome lip gloss, and you can channel the alien pop star Poppy while being two makeup wipes away from landing back on Earth.
Smashing through your fashion comfort zone can be fun for you and your social media clout. But there's another reason to give it a try: You might help someone else feel less alone. "Of course fashion has changed my life," says Roth, who recently modeled in Thom Browne's Fall 2023 show, a genius ode to otherworldly beauty. "But hopefully, my style can also help change the lives of others who don't always see themselves in the world." For Pearlmutter, her eye-popping mix of pink ribbons and neon pleather isn't just for fun — it's also a signal flare for inclusion and empathy in a bitterly divided nation. "When you're not afraid to set yourself apart, you show others that everyone belongs. You help open the doors for others to truly embrace themselves, even if other facets of society won't. I think that's the coolest thing you can do."