Emma Chamberlain's New Role Introduces Her Signature Humor To A Classic Brand
Lancôme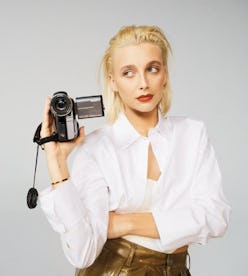 Emma Chamberlain is something of an Internet anomaly. She started out — like so many aspiring influencers do — making YouTube videos in her bedroom as a way to express herself and connect with others. Her social media channels quickly took off, due in large part to her humorous and relatable personality. Fast-forward to 2023, and the 21-year-old has evolved from a comedic YouTuber to a full-fledged it-girl, attending high-profile events like the Met Gala, snagging modeling jobs, and working with some of the world's biggest brands. However, Emma Chamberlain's Lancôme campaign — part of the star's latest gig — is perhaps the strongest proof that she's officially shed her social media roots to become an industry darling in her own right.
Chamberlain was just named a global ambassador for Lancôme, marking a new direction for the French makeup and skin care line. The legacy brand is one that touches multiple generations, but this new partnership is a clear effort to reach Gen Z-ers with Chamberlain's trademark aesthetic and humor. In fact, in a press release shared alongside the announcement, 21-year-old Chamberlain says she's always largely counted herself out of the beauty industry because of her quirky style. When Lancôme approached her, she reports, it was from a place of understanding and appreciation for her authentic self.
To celebrate the new partnership, Chamberlain and Lancôme produced a four-part web series, a first for the brand, titled "How do you say beauty in French?" In the clips, the newly-minted ambassador takes viewers inside Lancôme HQ to discuss the role of self-image in beauty — and what beauty really means today — while getting a crash course on the world of skin care and makeup. Much in the style of her daily vlogs, the first episode follows Chamberlain roaming the offices to speak to different experts and learning about her own specific skin and cosmetic needs. The campaign is at once glossy and professional but infused with that we're-all-friends-here presentation style that helped make Chamberlain a star.
"I am proud to welcome Emma to the Lancôme family," Françoise Lehmann, Lancôme International President, says in the brand's press release. "Besides achieving so much at such an early age, Emma is adored by a generation for the perspectives that she shares. We can only appreciate her humor, and the authentic tone used to discuss meaningful topics."
There are sure to be a lot more laughs (and luxurious products) as Chamberlain's ambassadorship progresses, marking a new frontier for beauty partnerships that would have been nearly incomprehensible even a decade ago. Much the way movie stars and singers slowly began to appear on magazine covers in models' steads, crops of top influencers are now stepping into the celebrity shoes and snagging covers, campaigns, and coveted industry roles for themselves. While Chamberlain's worked with other luxury brands like Cartier and Louis Vuitton in the past, this marks her first beauty partnership.