Dua Lipa Is Leaning Into Her Fire Sign Energy With This Hot New Manicure
Just in time for "Houdini."
@dualipa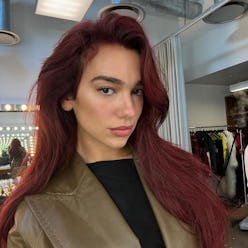 It's a major week for Dua Lipa — and even describing her upcoming projects as "major" still manages to feel like a bit of an understatement. Less than a month after wiping her Instagram totally clean, she's popped back up with a fresh hair color and all sorts of aesthetic teasers offering fans an early taste of her new album and overall era. In one photo dump, Lipa's red, almond-shape nails hold up one very interesting Polaroid that seems show a behind-the-scenes look at how it's all unfolding.
In her series of photos posted to Instagram, Lipa lets fans in on the collaborators who shaped this new album, including Tame Impala and producer Danny L Harle. On the third slide, a long, cherry-red thumbnail clutches a picture of Lipa herself in what appears to be a recording session. Interestingly enough, she's wearing some red nail in the Polaroid, too — next-level manicure inception? The color choice is an interesting one considering Lipa broke her social media silence by revealing dark red hair. Many artists like to tether each album cycles to assorted colors, and it seems like this alluring shade could be part of her new era's theme in general. And considering Lipa is a Leo, her newfound penchant for red is firmly within her fire sign wheelhouse.
From a beauty standpoint, though, Lipa's manicure is an interesting one. If you had to classify it, the shape is absolutely considered an almond shape. But the tips are far more rounded than usual, making her long, glossy nails something of a hybrid between almond and an oval — just call it a ovmond. It's an increasingly popular look thanks to just how natural it is compared to pointier stiletto nails or boxy square shapes.
Only time will tell Lipa's exact plan with all the reds she's scattering around her social media, and it might even be sooner than fans think. The lead single, "Houdini", from her as-yet-unannounced new album is set to drop on Friday at the stroke of midnight. Here's to manifesting an accompanying music video with all sorts of exciting looks.