Dua Lipa Loves This Manicure So Much, She Took It Around The World
@dualipa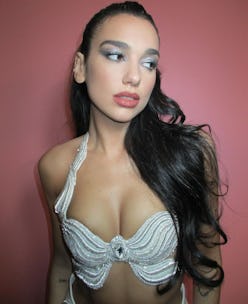 Dua Lipa's Instagram posts are globe-spanning, glamorous, and honestly, a little stressful to page through. It's just mind-blowing — how does she physically have enough time in her schedule to accommodate the dozens of jobs she holds down at once? The upside, though, is that she's managed to master the art of versatile manicures that can quite literally take her from partying in Ibiza to podcasting to partying to a work trip to Morocco with YSL — no changes in-between necessary. Dua Lipa's light blue nails might be the true unsung beauty heroes of her globe-spanning obligations, seamlessly rounding out every ensemble and adding a subtle pop of color to any look.
The Future Nostalgia singer first debuted the blue manicure at the tail end of March. Her Instagram fans were quick to zero in on the soft shade, but what really surprised everyone was just how long they stuck around. Despite extreme venue and outfit changes, the nails are still going strong into the second week of April. Lipa's notorious for finding manicure styles and colors she loves and keeping them on repeat for months at a time, so there's a solid chance she'll still be seen with blue fingertips through the summer.
While her choice to go for blue isn't so unexpected, the shade is. Lipa, a true Leo, usually gravitates toward bolder, brighter, metallic shades of royal blue and navy. If she opts for a more summery color, it's usually accented by nail art or a distinct style, like a French manicure.
Interestingly, though, Lipa's nails aren't necessarily what you'd call baby blue or even powder blue. The soft shade is closer to a white-infused blue, like a light-wash pair of jeans that've been through hundreds of spin cycles. That explains the versatility — what's more universal or comfortable than the perfect broken-in blue jeans? Judging Lipa's ever-increasing sphere of influence, expect to see this color take over more than a few neutral shades throughout spring and into summer.