Dakota Johnson's Blonde Hair Is Her Biggest Transformation Yet
You won't even recognize her.
@marktownsend1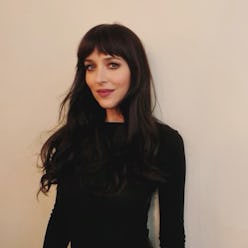 The unofficial queen of fringe, Dakota Johnson has long been known for her signature bangs and long, warm brown hair that's rarely cut above her clavicle — until now. In a recent preview for her new film Daddio, written and directed by Christy Hall, the actor is almost unrecognizable, sporting a short light blonde bob, hanging just below her chin. Her go-to wavy texture and fringe are in place, the latter trimmed in a curtain style.
The role that requires this major hair shift is that of a cab passenger, who gets into a meaningful discussion with the driver, played by Sean Penn, as they cruise through NYC. Now, it's very possible Johnson is wearing a wig for this part, but the actor has endeavored a drastic cut and color in the past, albeit they are rare occasions, so it wouldn't be totally unheard of. If you recall, pre-Fifty Shades fame, the emerging talent had long buttery blonde curls for a quick minute before fully embracing the rich brunette life. And remember back in 2016, when the How To Be Single star cut her locks into a short, chocolate-brown bob? That was likely the last time we saw this type of length on the star, so it seems she was long overdue.
It's unclear if this look is a permanent or even a semi-permanent one, but chances are it's not. Johnson is partial to her signature hairstyle and color and all roads seem to lead back to it. So don't get too comfortable with this flash in the pan makeover moment.
That said, if you want to catch more of moments of Johnson as a blonde, Daddio is set to make its international premiere next month at the Toronto International Film Festival and will likely hit theaters this fall.