This Unexpected Manicure Trend Is Officially Kendall Jenner-Approved
Tristan Fewings/Getty Images Entertainment/Getty Images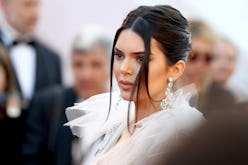 Nails inspired by the latest and greatest street-style trends? Kendall Jenner is certainly on board with it. In her March cover story with Allure, the model talks all-things beauty with the publication, sharing the holy-grail product she always has on hand, her favorite, bold makeup look of 2019, and her plans for her next manicure (hint: to say it's surprising would be a serious understatement). Yep, Jenner is likely going to rock cow-print nails in the near future, and you can bet everyone will quickly follow suit.
Though there are so many great takeaways from Jenner's interview — the one makeup product she would choose over all the others, the best hair tips she's ever learned from celeb stylist, Jen Atkin, and her easy-to-follow skincare routine are just a few that deserve mention — the true standout came to light when the model was asked about her future manicure plans.
"So there's one that's like cow print," she shared. "I know that sounds really weird, but it's actually really cool. So we'll see if that happens any time soon." Word to the wise: Keep an eye on Jenner's Instagram, because that's where she typically unveils her latest beauty looks (nails included).
A cow-print manicure is exactly what you'd expect. The nails are first coated with a white or cream-colored polish. They're then spotted with a mix of black and brown lacquer to create the illusion of cowhide.
It's no secret that Western-inspired pieces are on the rise. Cowboy boots, which first appeared on the scene in 2018, are still reigning supreme in 2019 — and they're showing zero signs of fading into the background any time soon. Fringe-embellished pieces are booming this year, and statement-buckled belts make for an easy way to add a touch of Cowgirl flair to your outfit.
It's only fitting then, that Western elements are finding a place in the nail world, too. And to be quite frank, who better to kick it off than Jenner? She can rock just about every polish imaginable, though she typically sticks with single hues. There's no better time than the New Year to try out something different, and clearly the model is all about the "new year, new look," mantra, recently unveiling a fresh set of wispy bangs on Instagram.
If one thing's for certain, it's that 2019 is the year of bold, out-there fashion trends, so why shouldn't your nails be just as eye-catching? It's quite possible other animal prints (read: leopard and snakeskin) might also be finding their way into your nearest nail salon, but until then, shop The Zoe Report's favorite polishes for recreating the Jenner-approved cow-print manicure.
Shop The Essentials