All The Must-See Moments From This Year's ZOEasis
The first weekend of Coachella brought the looks.
Shutterstock for BDG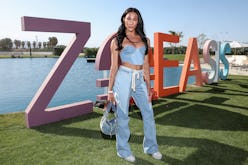 The sun was shining down on the California desert for weekend one of Coachella, when TZR and Rachel Zoe co-hosted our annual ZOEasis party for festival goers. Celebrities floated about the property, phones snapped pics of head-turning Coachella fashion, and the beats by DJ Pamela Tick set the perfect vibe. It was an ideal afternoon to soak up some well-heeled vitamin D before heading down the street for Saturday's music lineup.
Sephora's aura readings, poetry by Ariella Estoria, and fragrance misting set the mood and intentions for the day. Shutterstock for BDG
Mayan Lopez | Shutterstock for BDG
Teddi Mellencamp Arroyave | Shutterstock for BDG
Michaela Jaé Rodriguez | Shutterstock for BDG
Sophie Fergi | Shutterstock for BDG
Xavier, Rhashad and Quinn Lawery | Shutterstock for BDG
Claudia Lee | Shutterstock for BDG
Emely Moreno | Shutterstock for BDG
What better beverage than an icy Tanqueray cocktail? | Mark Hanson/BDG
Harald Austad & Margie Plus | Shutterstock for BDG
Party goers stopped by Kacey Welch for clip-in extensions, plaiting, and Coachella-ready braid accessories. | Shutterstock for BDG
Leah Kirsch designing custom Bandolier phone cases | Mark Hanson/BDG
Lip touch-ups with GXVE by Gwen Stefani | Shutterstock for BDG
Sebastian Bails | Shutterstock for BDG
Alchemy 43 offered vitamin B12 shots to guests. | Mark Hanson/BDG
George Todd McLachlan | Shutterstock for BDG
DJ Pamela Tick | Mark Hanson/BDG