Ciara's Dramatic New Cut Will Make You Forget All About The Curtain Bangs Trend
@ciara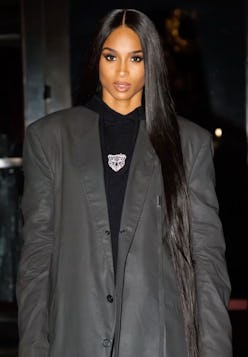 So many celebrities are reaching back into their personal archives to celebrate musical and aesthetic "eras" of their past, but if Ciara ever did a full-fledged retrospective, the looks alone are enough to fill up an entire warehouse. The multi-talented performer has always been one to play around with visuals, be it through her fashion choices (and clothing line), music video effects, or even just experimenting with an exciting new hairstyle to shake up a ho-hum week. Ciara's long bangs are the latest addition to her catalogue. Long, wispy, and more than a little earthy, they're a softer yet no less glamorous side of the star. Thought almost certainly just a temporary addition — Ciara's love for versatile wigs and hair pieces is long documented — you're not alone if you think they should be a permanent piece of her entire summer beauty vibe.
As usual, Ciara debuted the bangs just as that particular style picks up steam — if she doesn't outright start a craze herself, she's always extremely early to it. In the montage of photos she posted on Instagram, fans can see that her bangs are incredibly long, with the outer pieces falling all the way to her (admittedly high) cheekbones, while shorter pieces graze her eyelashes and in-between her brows.
Similar to the way that curtain bangs are split like open drapes, the dramatic length and staggered layering through Ciara's bangs gives them a flowing, waterfall-like effect. Plenty of her fellow A-listers are trying the "waterfall bangs" look out for spring summer, including Rihanna and Anne Hathaway. Not only are they easier to manage than a thicker, straight-across fringe, but the varied lengths through the ends add a little bit more texture and edge, too.
As the summer gets slower and lazier, consider trying out some waterfall bangs yourself. Follow Ciara's lead and go for a sleek, straightened look, or throw you hair up into a ponytail and leave the bangs free-flowing like a built-in accessory. One thing's for sure: as the trend reaches critical mass, expect to see plenty of other stars giving waterfall bangs a whirl themselves.