Billie Eilish's Neon Roots Are Officially Back, But They Look A Little Different
@billeeilish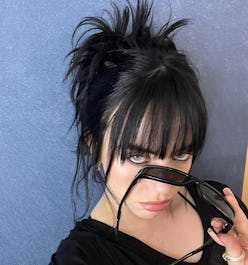 Group chats, activate — Billie Eilish is making moves once again and something says it's major. Fans know that Eilish treats her hair color as something of a mood ring, shifting the shades and styles to reflect how she's feeling and her latest artistic outputs. After an extreme shift in her retro blonde era, the young star went back to the rich raven-black that acted as her calling card as she first ascended to fame. But on Aug. 3, Eilish got back to her roots in a much more literal sense. Eilish's neon red hair looks like it sprouts straight of of her scalp that color, a bright and bold fire-engine red that's a spot-on match to the Chicago Bulls jersey she wore onstage at Lollapalooza later that night.
It's nearly identical to her signature look from her breakthrough period, but now in an arresting shade of red rather than the acid green color she used to love. "Remember me?" Eilish captioned the photo debuting her new look, and fans instantly mobilized to share theories in the comments. "NEW ERA??!!!!" asked one, while another declared an exited-scared, "SOMETHING IS HAPPENING!" Considering just how instrumental her green roots were for her When We All Fall Asleep album cycle, it's not too far of a stretch.
Michael Hickey/Getty Images Entertainment/Getty Images
Her bold new look was created by celebrity colorist Jess Gonzalez of Salon Benjamin. Indeed, Eilish's colorful roots were around for her first Grammy victories, first Oscars performance, and many of the fashion moments that helped make her a Gucci muse and brand ambassador. In 2021, she shocked her followers by unveiling a totally new warm platinum blonde look, oh so casually dropping a selfie of the soft shade to a frenzied comment section.
Her headlining performance at Lollapalooza didn't hold too many clues, according to boots-on-the-ground (i.e. Twitter) reporting, but that doesn't necessarily mean the new album rumors aren't true. On the back of her Barbie soundtrack success — and now factoring in this invigorating aesthetic shakeup — don't discount the possibility of a surprise drop. If there's one thing about Eilish, she's always going to strike when the iron is hottest.