The Most Intense Celebrity Role Transformations All Revolve Around Hair
Talk about true artistry.
Frazer Harrison/Getty Images Entertainment/Getty Images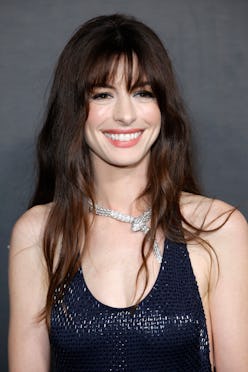 Ah, the magic of the movies. For beauty lovers, some of the most memorable on-screen moments ever don't involve a green screen, cutting-edge computer graphics, or a massive, sprawling set with thousands of extras — often, all you need is a high-quality wig and a charismatic actor to put it on. Celebrity role transformations manage to take some of the most instantly-recognizable faces on planet earth and alter their appearance enough to convincingly take the audience far from Hollywood. There are plenty of classic, regularly cited examples from earlier eras in the industry, but even of-the-moment A-listers like Emma Stone, Zoe Saldaña, and Margot Robbie are willing to undergo a dramatic personal change — or hours and hours in the hair and makeup chair — in service of the film or TV script.
While most accolades for movie role transformations are doled out to actors putting their bodies through extreme, often brutal diet and exercise routines, many of the greatest before-and-afters of all time owe their results to special effects makeup, custom hair pieces, and even eyebrow prosthetics. Below, check out some of the coolest celebrity movie role transformation in recent memory — frequent double takes and screenshots not only encouraged, but likely highly necessary.
Rooney Mara
Though a relative unknown at the time, audiences instinctually knew Mara's role in The Girl With The Dragon Tattoo required some serious dedication. She bleached her brows, cut off her hair, and got actual lip, brow, nose, and nipple piercings to play the edgy part.
Interestingly enough, Mara told W Magazine back in 2011 that it was the ear piercings that actually hurt the most.
Emma Stone
Despite being a natural blonde, Stone is practically synonymous with bright red hair — it's a staple of most of her biggest movies. That's why it was particularly shocking to see Stone with long, raven-colored waves in early looks at her new film, Poor Things.
So stark is the difference between Stone IRL and her on-screen look that many fans didn't even recognize her when the first production stills dropped — half the internet mistook her for Lorde.
Zoe Saldaña
As one of the most versatile actors of her generation, Saldaña is used to shifting her look for roles. None, though, compare to the eye-watering intense (and probably very boring to sit through) hair and makeup process for Marvel's Guardians Of The Galaxy film franchise.
She told Entertainment Weekly that the role demanded 3 a.m. call times for the body-covering green makeup required to transform her into an intergalactic alien.
Margot Robbie
Robbie might be stunning enough to portray an actual Barbie, but not all of her roles are so glamorous — or modern. To portray Queen Elizabeth I in 2018's Mary Queen Of Scots, she wore stark-white face makeup, a dramatic red wig, and several prosthetic facial scars.
In an interesting twist, though, she actually required more prosthetics for her Tonya Harding biopic than this historical film.
Lily James
Robbie's above transformation raises a key point. As James found out while filming Hulu's Pam & Tommy, bringing a modern, well-documented person to the screen can often be trickier than building a new character from the ground up. To become Pamela Anderson, several blonde wigs and eyebrow-obscuring makeup were required.
In an Elle magazine interview, the show's team revealed James also wore dentures designed to push her bottom lip further out. "Lily wanted to keep them in all day," special effects makeup designer Jason Collins said. "As a British actress, she's already battling an American accent. I think those teeth helped keep her in character and remind her about the accent."
Kerry Washington
As one of the most beloved actors across TV, film, and streaming, Washington loves to flex her abilities with physically transformative roles. The thing is, though, not every exciting makeup requires intense, face-altering plasters or edgy makeup. For Netflix's The School For Good And Evil, the star slipped into a regal role that required glamorous, storybook-style wigs.
Fittingly, she'd show off an even more exciting, extreme wig IRL at the film's premiere.
Blake Lively
Sometimes, it takes the full scope of a completed film to really get a sense of the transformative hair and makeup. Early looks at Lively's role in the big-screen adaptation of Colleen Hoover's It Ends With Us has fans divided.
One thing's for sure, however: no one can pull off copper hair like Lively.
Anne Hathaway
Talk about an Oscar well-deserved. For the latest imagining of Les Misérables, committed artist Hathaway whittled herself down with extreme (doctor-supervised) diet to portray a starving prostitute. To boot, she even buzzed her head on-screen.
When Hathaway collected her Oscar for playing Fantine the next year, her hair had grown out into a charming pixie. All's well that ends well.