Emma Stone Could Be Lorde's Twin With Her New Head Of Long, Black Hair
WWD/Penske Media/Getty Images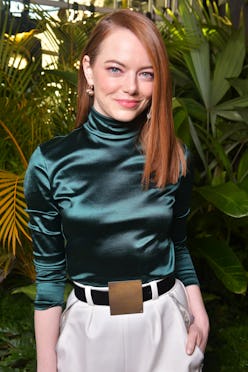 To be considered a serious actor, the way Oscar-winning Emma Stone is, willingness to physically transform for a role is key. Over the years, fans have been regaled with stories of extreme body fluctuations, permanent tattoos, and unshakable accents taking over during filming — but even knowing Emma Stone's long black hair is for a movie doesn't take away from how extreme of a transformation it really is. When the first photo stills of Stone's upcoming Poor Things made their way to social media, they drew more than a few double-takes. The term gets thrown around quite a bit, but unrecognizable is the only way to describe Stone's intense look — and it's literal, too, as many (including this writer) glanced at the pictures and simply thought, "Another Solar Power video from Lorde?"
While Stone's had a few different hair colors over her long, illustrious career, the waist-skimming, rough-dried waves and raven-black shade are both firsts for the star. Set for release on September 8, Poor Things is a quasi-Frankenstein tale of a woman, portrayed by Stone, literally brought back to life by an unconventional doctor-scientist. While few details are available on the closely-guarded project (which Stone also produced), the forest-setting stills paint a deliciously unsettling picture.
In her real life, Stone stays true to the copper red hair that's become her trademark — but that's not her natural hair color, either. Back in 2012, she told Refinery 29 that while she's known for fiery reds, she's actually a natural blonde. "My hair grows out blonde, but my colouring is similar to that of a redhead," she explained to the site. "I really like having red hair. I'm a natural blonde, but I really like the red."
If the 2020s' biggest box office hits have taught the industry anything, it's the power of an internet-unifying meme ahead of release. With Twitter users already Photoshopping Stone onto Björk album covers and into Lorde videos, it's safe to say Poor Things will crush it.