With A $6,000 International Haircut, We've Officially Reached *Peak* Gwyneth Paltrow
Frazer Harrison/Getty Images Entertainment/Getty Images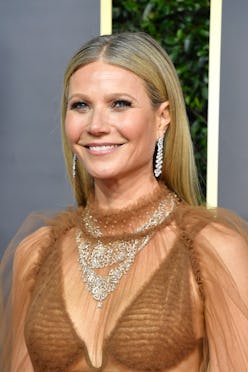 How many films are still so influential, even after a quarter-century, that even their titles are shorthand for universal social phenomena? 1998's Sliding Doors did more than rename the concept of a serendipitous, life-altering moment — it gave us Gwyneth Paltrow's era-defining pixie cut. To celebrate the movie's 25th anniversary, cast and crew members are looking back on the filming process and its most memorable moments, including the story behind Gwyneth Paltrow's Sliding Doors haircut. The script hinges on properly depicting physical differences between the two versions of Paltrow's character, which largely came down to her hair. In one iteration of reality in the film, Paltrow has long, mousey, straight hair. In the other, she's in a very of-the-era, blonde-highlighted pixie. Ever the committed actor, Paltrow really did chop her hair for the role — but the convoluted, totally bananas story of the cut adds a whole new layer to the Sliding Doors legacy.
On the appropriately-named Sliding Doors Podcast, which details accounts of real-life fateful moments, the film's director and producer spent two full episodes sharing all sorts of juicy tidbits from the set. Of course, Paltrow stars in many of the them, ranging from precocious (a 24-year-old Paltrow telling the director to chill out) to predictable (her horror at discovering "carb on carb" chip buttys), but the best bit might be about that now-iconic haircut.
Sliding Doors producer Phillipa Braithwaite revealed that while Paltrow was totally down for the transformative pixie cut, she insisted on flying in her own personal hairdresser all the way to London where she was filming. "It was probably the most expensive haircut in history because Gwyneth, quite rightly, had lovely hair [and] wanted her hairdresser to come over from New York, so we had to fly him over by Concorde." The final price tag is the real kicker, though. "It ended up costing £5,000, that haircut." In 1998 money, that's about the equivalent to $6,250. But accounting for inflation? The pixie would cost nearly $10,000 today.
Really, though, wasn't it kind of worth it in the end? Not only did the movie become a late-'90s classic, but it also blessed the world with Brad Pitt and Paltrow's matching hair moment on the red carpet. Nearly identical in length and color, the joint serve haircuts would immediately land them among the Hollywood's Greatest Exes pantheon.
Could this be the most Gwyneth Paltrow story ever? You can't say she's not consistent — that's what makes her a legend.