The Bowl Cut Grows Up — '90s-Inspired 'Basin Bangs' Are Taking Over The Red Carpet
Taylor Hill/FilmMagic/Getty Images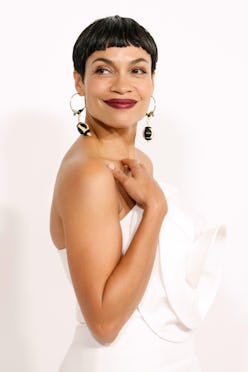 New beauty trends are always emerging from unlikely places, but looking back at the past is one way to spot them in advance. It's something of a universal truth that eventually virtually every once-hot craze will cycle back around into relevance. Sometimes it's with a fresh, more modern twist, and sometimes it's pulled directly from a prior decade — but if you've seen it before, you'll almost always see it again. Case in point: the resurrection of the impossibly polarizing bowl cut trend, which has been spotted on an increasing number of celebrities over the last few years.
Before panic mode sets in, know this — the look is far from the harsh undercut worn by baby brothers the world over through the '80s and '90s. The 2023 version is softer, chicer, and more even all-around for an effect that feels more contemporary than costume-y. In fact, you'd probably do better to call this style "basin bangs" than anything else as this look is hinged on cap-like fringe rather than a short, uniform length all the way around the head. In the 2020s, the style's already been worn by beloved stars like Kerry Washington and Charlize Theron. But look back just a little further into the late 2010s and you'll notice this seemingly polarizing trend has been gaining steam for quite awhile, seen on everyone from Zendaya to Miley Cyrus.
Ahead, get acquainted with the bowl cut resurgence and its hot new spinoff, basin bangs.
The Original Muses
Victor VIRGILE/Gamma-Rapho/Getty Images
Sunset Boulevard/Corbis Historical/Getty Images
To fully appreciate a trend, you have to examine its origins. The bowl cut really hit critical mass in the late '80s and early '90s, a unisex look that could be made to feel more glamorous or utilitarian depending on volume, color, and styling.
The chop was immortalized on the cover of Toni Braxton's eponymous debut album — later homaged by Beyoncé for Halloween — in 1993, the same year Linda Evangelista wore an auburn version on the Chloé runway. Halle Berry's worn a few different basin bangs/bowl cut iterations over the years, but never more famously than in 1991's The Last Boy Scout.
Rosario Dawson
The most recent celebrity to step out with the look, Dawson wore these even-all-over bangs to the 2023 CFDA Awards in early November. Her take on the bowl cut is pretty straightforward and classic, but skips the undercut shaving in favor of a shapely trim that frames her face.
Charlize Theron
One of the first celebrities to resurrect the bowl cut was Theron in 2019. Created by hairstylist Adir Abergel, the long, floppy bangs and shorter, sharper corners demonstrate why this was so popular for all genders through the '90s.
Kerry Washington
With Washington's extreme chop — actually a one-night-only wig created by celebrity hairstylist Larry Sims — the divide between a traditional bowl cut and basin bangs is more apparent. While her ends and fringe aren't the same length as each other, they are extreme and perfectly even. In fact, it just looks like two different-sized bowls were used.
Cardi B
Leave it to Cardi to go for the most classic bowl cut possible. She went all-in on the blunt bangs and even had the wig shaved underneath to keep the top layer fluttery and floppy — the retro version's signature. Of course, it's made all the more fun by the bright bubblegum color.
Emma Corrin
When Corrin debuted sharp, vintage-inspired basin bangs on their Instagram Story, no one was especially surprised — it's exactly the kind of edgy look the too-cool star would try, no? While the ends of their platinum hair peek out below the ears, their choppy bangs are short, sharp, and decidedly bowl-shaped.