Behind Every Cool-Girl Red Carpet Moment Is Hairstylist Adir Abergel & His Trusty Tools
Take a deep dive into the creative's career.
Courtesy Of Adir Abergel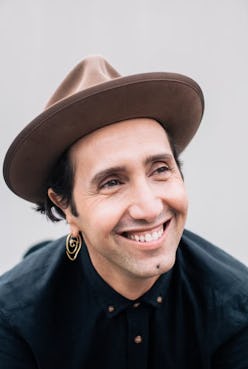 Iconic beauty moments aren't born without the visionary artists that create them. In Behind The Glam, TZR gives you an inside look into the careers and inspirations of the industry's top artists.
Technically, all of this was never Adir Abergel's plan. A gifted dancer, movement was the young, Israel-born creative's primary form of self-expression, the place where he channeled all his free-flowing creativity. As so many of the best stories go, though, it seems the universe had alternative ideas. A career-ending injury wasn't the end of the road for Abergel. Instead, you've seen his singular imagination translated into iconic, career-defining hairstyles for some of the biggest, generation-spanning stars on earth.
Abergel has now crossed over into a zone typically reserved for the stars with whom he collaborates — he's an industry touchstone in his own right, more of a hairstylist celebrity than a celebrity hairstylist. At first glance, the primary characteristic shared by all of Abergel's clients is an A-list positioning among the Hollywood heap — his roster's been crowded with Oscar-winners including Anne Hathaway, rockstars, rappers, and Tina Turner-sized legends alike. But the celebrities he styles have a common coolness and unique cultural impact that make them particularly beloved. That many of them wound up in Abergel's chair and chose to essentially never leave it just speaks to the depth of relationships he's built as well as the kind of personality his approach to beauty attracts in general.
The way Abergel describes his career, that personal connection factor feels like a through-line you can unravel like a thread, starting with his earliest memories at home. Ahead, go behind the glam with celebrity hairstylist and all-around visual artist Adir Abergel.
His Road To Beauty
Abergel's love of beauty was first forged in childhood, born from his mother's own penchant for glamour. "My mom was an artist and quite eccentric," he shares, describing days spent watching her toggle through different hair colors and styles, makeup, and outfits, always anointing herself with warm YSL Opium perfume. Those memories, Abergel says, became part of his visual story and laid the foundation for what would quickly become his ultimate career path. "She gave me confidence to embrace my style and encouraged me to experiment with my individuality," he says.
It was that focus on individuality that Abergel credits with helping find his own niche in the beauty industry as a whole. At around age 10, he began assisting in applying single-process color to his mother's friends' hair, giving curl-straightening blowouts to make a little extra money. "I fell in love with the process of transformation and seeing the joy it gave my mom's friends." By age 15, Abergel decided to enroll in cosmetology school at Santa Monica Community College where he'd have the opportunity to turn his passion and overall vision into even wider-reaching skills.
The Moment It All Clicked
When first taking classes in cosmetology school, Abergel got wind of an opportunity that changed everything. "I heard that a hairstylist named Arthur Johns was looking for an assistant," he explains to TZR. Abergel headed down to his salon to introduce himself in-person, convincing Johns to hire him on as an apprentice and earn his California cosmetology license that way. Serendipitous doesn't begin to cover that meeting — "the day I started working with Arthur, I knew that this was what I wanted to do," Abergel says. "That was basically the start of my hairdressing career. I loved how women felt when they left us, I loved the change and the individuality we created for each person, I loved the relationships I formed through the connection of hair."
And there were some major names coming through the door, a virtual portal of celebrity. "This was really one of the most influential hair people of the '80s and '90s in California, doing all of these iconic, incredible women," Abergel explains, listing off Olivia Newton-John, Tina Turner, Julie Christine, and Diahann Carroll. He washed First Lady Nancy Reagan's hair at 16 years old, learning daily from the man who created Princess Leia's Star Wars buns, who styled Chaka Khan's larger-than-life curls. "And these women really kind of raised me." Abergel worked alongside Johns as his assistant for seven years, striking out on his own to become a full-time stylist at 22 — a glamorous graduation.
Ascent To The A-List
As his self-run career started to blossom, Abergel brought his talents over to music video production, creating looks for stars like Missy Elliot, Britney Spears, Jewel, Dave Navarro of Jane's Addiction, and the ladies of TLC. But as the sun was setting on the MTV era, a slight pivot to working with an up-and-coming generation of television and film stars that would both help define his career and personal life alike.
He names Jennifer Garner, Jessica Biel, Anne Hathaway, and Rosario Dawson as just a few of the young women he met early on — "All these people have been friends and clients for the last 20 years," Abergel says. "We have come up together in the industry and have long, deep meaningful relationships." They're still so fruitful, too. Pop over to Abergel's Instagram and you'll see freshly-styled shoots and throwbacks alike with his famous friends, effectively growing up side-by-side. He was by Garner's side through her Alias press tours at the very start of her career, for example, and the pair can still be seen laughing together in videos for Virtue Labs, the best-selling biotech hair care brand with whom he's the creative director and a business partner.
Despite a schedule stuffed with red carpet events year after year, there are still those pinch-me type moments that Abergel considers to be his most major milestones and favorite-ever looks. There are the overtly glamorous, like Sandra Bullock's memorably shiny hair when she won her Best Actress Oscar, being honored at the Getty Center as InStyle's Hairstylist Of The Year, being right there by friend and client Anne Hathaway's side as she won her Oscar.
And then there are the kinds of looks that palpably feel like products of his close-knit relationships: working with Kristen Stewart for her first Twilight premiere and their subsequent series of buzzcuts, chops, and bleach-outs, "Cutting Jennifer Garner's hair into a lob that we called the Jen G for Gen Z," and Charlize Theron's brilliant bowl cut. On his Instagram, the final products are always posted artfully, pasted into digital collages or dressed up with interesting photo angles.
His Distinct Philosophy
Abergel says it himself: "I never thought that hair would be the way that I would express my imagination and creativity." It touches every part of Abergel's process, from the brainstorming to the post-styling photos, and is even apparent through his own inspirations. When doing his apprenticeship with Johns, Abergel says he "fell in love with magazines around that time and would spend my nights combing through the credits" of all the hair industry greats, like Guido Palau, Serge Normant, Orlando Pita, Garren, Oribe Canales, Eugene Souleiman, Sam McKight, and Odile Gilbert. "I believe that self-expression is incredibly important for self-individuality," he explains, which helps sum up his overall beauty philosophy: do you, play, express, keep being kind, and live by one motto — "let's be happy to be alive."
When it comes down to it, it's that unabashed joyfulness that's most evident in Abergel's work. It's in his big, smiling selfies, in the palpable confidence seen in clients, the professional-caliber dance moves he still hits on Instagram, his commitment to social justice, to promoting kindness. "I have loved the women that have sat in my chair," he says. "These are my greatest sources of inspiration."