Face Mousse Is The Secret To Catherine Zeta-Jones' Luminous BAFTAs Glow
Stephane Cardinale - Corbis/Corbis Entertainment/Getty Images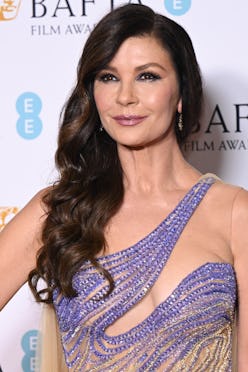 We may receive a portion of sales if you purchase a product through a link in this article.
Even among other celebrity-studded award shows, the BAFTAs are in a class all their own. Uniting Britain's top talent for a celebration of the year's finest films, the event always manages to attract an A-list crowd and score some of the all-time best red carpet moments along the way. Take Catherine Zeta-Jones' 2023 BAFTAs look, for example. Her signature long, side-swept curls and silver-toned eye makeup play up the ethereal shimmer of her low-cut gown for a decidedly sultry effect, but it's all cut with an understated elegance totally unique to the BAFTAs. It's this brilliant blend that makes Zeta-Jones' look among the BAFTAs' best, but also one of the greatest red carpet moments of the award show season so far.
For an up-close-and-personal glimpse at what really goes into bringing award show glam together, celebrity makeup artist Brett Freedman took TZR behind-the-scenes on Zeta-Jones' standout BAFTAs look, with more than a few inside inside tips on recreating it at home. Zeta-Jones tells TZR the getting-ready process is a fun one with Freedman, whose keen eye for color and placement brought it all to life. "He takes the entire look, head to toe, into consideration when deciding about my makeup and what unique application he's going to do," Zeta-Jones says. "I love the glowing skin, accentuating the eyes — the whole look!" Ahead, the complete BAFTA beauty briefing.
Before a single brush touches product, it's critical to plot the look out. Freedman says working with Zeta-Jones is always a collaborative experience, at least partially thanks to how well she knows what suits her. "I know what 'clicks' with her — the tell is her eyes soften, the corners of her mouth curl up a touch," Freedman shares. In the case of her BAFTAs glam, much of Zeta-Jones' look is hinged on the luminous shimmer of her Tony Ward couture gown and how its reflected in her equally radiant skin, hair, and makeup.
It all starts with skin prep, a critical piece of the process that can be make-or-break. Freedman suggests cell turnover treatments up until the final four days before an event, with plenty of water and eye cream throughout. "The makeup will go on better if your canvas is in tip-top shape," he explains. To perfect it, he applies the FarmHouse Fresh Three Milk Moisturizer to a damp face just ahead of complexion products. "This is a great skin prep that works well under makeup. It holds in moisture, but isn't overly full-bodied," Freeman says, calling it a kit mainstay.
Zeta-Jones' sparkly eye makeup acted as the center piece of her makeup look by Freedman's design, anchored by a lavender-colored lipstick that fit right in to her gown's color palette. After using a mid-toned matte shade in the eye creases and edges of the upper and lower lids, Freedman utilized a "spotlight highlight" technique for added drama. He deposited shimmery shadow in the centers of both the upper and lower eyelids, which was then off-set by dark waterline eyeliner and tons of mascara. "It photographs beautifully and gives eyes gorgeous depth," he says.
As a finishing touch atop the makeup, Freedman shares he applies the FarmHouse Fresh Ageless Illumination Facial Mousse for even more radiance. In lieu of a mica-enhanced highlighter on the cheek and brow bones, this fluffy, light mousse helps yield that glass skin quality that looks so flawless on the red carpet. "Smooth it on tops of hands and get ready to be in love," he adds. "Instantly flattering!"
Finally, all that's left is ensuring any exposed skin is just as glowing as Zeta-Jones' complexion. It's an often-overlooked step that can make all the difference in a photograph. "On the red carpet, you want the perfect amount of color, smoothness, and glisten," Freedman explains. "Too much and it's distracting, not enough and it feels low-watt." For the BAFTAs, he used the FarmHouse Fresh Lustre Drench Instant Glow Dry Oil, applied at least 30 minutes before dressing, with a final layer brushed on after Zeta-Jones stepped into her gown. "Since it's a dry oil, it's never tacky, never messy," he says. "The first pass will hydrate and address any dryness, and the second gilds the lily, as they say."
Together, all the products, techniques, and expertise make Zeta-Jones' look one of the night's very best. Ahead, shop the complexion must-haves used to pull it all together.