These BAFTAs Beauty Looks Just Blew Every Other Award Show Away
Dominic Lipinski/Getty Images Entertainment/Getty Images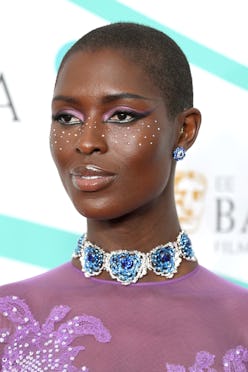 The BAFTAs might just be the ultimate award show-lover's event. While stateside ceremonies have shifted toward more casual elements in recent years, the British Academy of Film & Television Art's annual awards are still steeped in all the dramatic glamour that makes these events so exciting to watch. The 2023 BAFTAs' best beauty looks exemplify that commitment, artfully combining modern, of-the-moment touches with timeless motifs that would look at home in any era. But just because Britain's biggest A-listers (and more than a few Americans, too) keep it mostly classic doesn't mean there isn't plenty of excitement in these hair and makeup looks.
Bold eye makeup colors are one of 2023's biggest red carpet trends, but the BAFTAs are putting interesting eye makeup placement on the radar, too. Geometric-looking eyeliner concentration adds so much avant-garde flair to looks on Jodie Turner-Smith and Karla-Simone Spence for instance, while Florence Pugh and Sophie Turner used the ceremony as an opportunity to show off some exciting new bangs styles. Often considered to be "the other Oscars" by industry insiders, the red carpet moments all reflect just how major the evening really is. Ahead, a selection of the best beauty looks at the 2023 BAFTAs.
Florence Pugh
Pugh is one of the red carpet's most reliable stars in terms of aesthetic experimentation. Fresh from London Fashion Week, Pugh and celebrity hairstylist Peter Lux styled her new micro-bangs and hair edges into fanned out spikes around her head.
Angela Bassett
Always the picture of glamour and grace, Bassett paired her fairylike lavender dress with the softest wash of matching purple eyeshadow, smoldering eyeliner, and a delicate glossy lip — all courtesy of celebrity makeup artist D'Andre Michael.
Anya Taylor-Joy
Though Taylor-Joy's hooded gown steals most of the shine here, her warm-toned brown makeup — including a brick-toned lipstick applied by makeup artist Valeria Ferreira — is its perfect complement.
Michelle Yeoh
It's impossible to say which is better: Yeoh's warm coral blush applied by makeup artist Polly Osmond, immaculate blowout by Jordan Johnson Chung, or her ultra-trendy cat-eye magnetic manicure?
Viola Davis
Resplendent in purple, Davis channeled classic Old Hollywood glamour at the 2023 BAFTAs. Her side-parted wedge bob is the work of Jamika Wilson, while her radiant, shimmery purple makeup is a Sergio López-Rivera original.
Kate Middleton
Dressing up her trademark bouncy blowout with eye-grabbing accessories and smoky eye makeup, Middleton's BAFTAs look is timeless and traditional.
Jodie Turner-Smith
When Turner-Smith arrives on the red carpet, things start getting good. Never one to shy away from full-fledged expression, her crystal freckles, swooping eyeliner, and bold amethyst eyeshadow (all applied by makeup artist Joey Choy) are a reminder of what makes award shows so fun in the first place.
Ana de Armas
Surprisingly, de Armas was one of the few BAFTAs attendees in a red lip — but her version is really all you need. A stark contrast to her shell-pink gown, the Mary Wiles-applied lipstick and winged liner (both are Estée Lauder) once again channels Marilyn Monroe's signature beauty look.
Sophie Turner
Playing with pops of mod-style mascara — and showing off those new curtain bangs — Turner's fun-filled BAFTAs look feels so quintessentially British.
Lily James
Keeping it low-key yet ethereal thanks to some very strategic, glow-boosting highlighter, James' fresh-faced look is heightened by a classic, slicked-down bun styled by Halley Brisker using ghd tools.
Karla-Simone Spence
Celebrity hairstylist Heather Dapaah expertly combined sculptural braids with an of-the-moment bubble ponytail for Spence, and the result is so glamorously geometric — especially when you factor in the bright yellow liner arcing over each eye.