These Bags In Carrie's Closet Have Stood The Test Of Time
We like to call them investment pieces.
Gotham/GC Images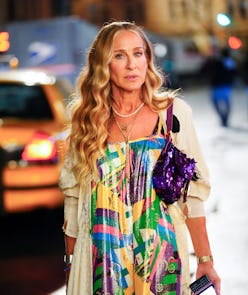 We may receive a portion of sales if you purchase a product through a link in this article.
If there's one character trait to know about Carrie Bradshaw, it's that she loves a good accessory, be it a pair of blue Manolo Blahnik heels or a colorful Fendi Baguette bag. When you take a closer look at her handbag collection in particular, you'll realize that throughout the six seasons of Sex and the City she carried a lot of different styles. (According to Elle, in a given season, the style icon reportedly wore around 100 handbags!) Despite this broad range of styles, there are certain ones in Carrie's closet that still hold up today. To help us dig up some of these hidden gems, we spoke with Lara Osborn, VP of procurement and authentication at Fashionphile, the leading platform for pre-owned, luxury accessories, on which of these purses have the best resale value and are still worth the investment to this day.
Spoiler alert: Brands like Dior, Hermès, and Fendi popped up in our conversation as names with longevity and resale value. Osborn notes that luxury brands like the aforementioned houses are always must-haves thanks to their beloved legacy and ability to tap into the zeitgeist. If you recall from last year, Fendi was quick to work with Sarah Jessica Parker on a limited-edition of sequin purses when the And Just Like That... reboot came out, thus planting the design firmly in everyone's minds. This label is just the tip of the iceberg, however, when it comes to what other pieces in Carrie's wardrobe still feel relevant.
Ahead, Osborn walks us through four bags from Sex and the City that still hold their value today. Consider this quick list a good starting point if you need a new handbag for the season ahead, as they'll last you far longer than six months.
Dior Saddle Bag
This bag was first introduced by John Galliano in Dior's Spring 2000 collection and became a cult accessory in the early aughts, so it's no surprise TV's most popular style icon owned one, too. In Season 3, episode 5 Carrie has the label's monogram print piece tucked under her arm when she goes out with Aidan Shaw (played by John Corbett) for the first time.
How does this style hold up in 2023? Very well, according to Osborn who credits Maria Grazia Chiuri for reviving people's desire for a Saddle bag with her Fall 2018 collection. "When [Chiuri] brought it back, within a year the bag went from the $300 to $400 resale range to about $1,700," Osborn says, pulling from Fashionphile's resale data from over the years. To this day, the demand for the Saddle is strong, with its logo Oblique and special edition designs fetching close to $4,000 on Fashionphile.
Gucci Belt Bag
Although Gucci has many famous styles in its handbag repertoire — the Jackie, the Marmont, the Diana — don't discount its iconic fanny pack. "They have been selling consistently well at Fashionphile for many, many years," says Osborn. "There's been a resurgence in, I'd say, the last five years for the belt bag — they're cool again and have that vintage appeal with customers. In 2015, we were selling these for around $600 [on Fashionphile] but now the brown version, which is the most iconic, is going for $1,000."
If you want styling ideas, perhaps draw some inspo from Carrie's bodycon outfit above from Season 4, episode 7. Though personally, we'd trade in the black crop top for a simple ribbed tank.
Hermès Kelly
It goes without saying that any Hermès Kelly is a good investment piece, and Osborn agrees. "When you're talking about a really expensive bag, neutral [colors] are always sound investments, but with Hermès this differs slightly because its color options and textures that keep you coming back for more," she says. Speaking of texture, in Season 6, episode 15 when Carrie has to watch baby Brady (Miranda's son), she totes around an extremely rare Kelly. "The one she is carrying is really unique because of the textile, which I believe is buffalo leather and hardly used anymore," Osborn surmises. "It would be a real find if you came up upon one today."
Fendi Sequin Baguette
Of all the purses in Carrie's closet, the Fendi Baguette is perhaps the one that often gets the most attention from SATC fans. If you recall in Season 3, episode 17, she gets mugged and when the robber asks for her Fendi sequin bag, Carrie responds with the now famous line: "It's a baguette." Fast forward 22 years later and the purple accessory was brought back in episode 3 of And Just Like That... Season 1. The limited re-edition piece has since sold out on the retailer's website, but this hasn't stopped people from scouring the web for pre-owned ones.
"Sequins [on a bag], in general, will always be a seasonal [product] and usually we don't see seasonal material hold their resale value," says Osborn. "But the [Fendi Sequin Baguette] is an anomaly and I do think that's because of the show and the many campaigns around it. The style holds its value very strongly, and it has become a piece of history."