Cardi B Fit Right In At The Beyoncé Concert With This Rhinestone-Studded Eye Makeup
MEGA/GC Images/Getty Images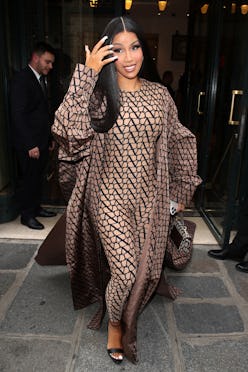 It doesn't matter how many followers, Grammys, or record sales an A-lister has to their name — around Beyoncé, everyone's equally starstruck. She's a celebrity to other celebrities, which means the VIP section at her concerts always feature award show-level attendees, all dressed in their best space cowboy getup. For the final date of the Renaissance World Tour, Cardi B's rhinestone eye makeup and shimmering silver gown just underscored Beyoncé's influence and delivered some Halloween-perfect makeup inspiration at the same time.
For both celebrities and civilians alike, the Renaissance Tour's been a perfect opportunity to commission or craft an outfit-hairstyle makeup look combination that captures the show's most crucial themes while still expressing some self-specific creativity. True to form, Cardi did just that with a curve-hugging metallic dress, big, bouncy hair with side-bangs, and a smattering of crystals at her ears and around her eyes. In some pre-show selfies, close-up photos show a trail of rhinestones placed just under her traditional cat-style wing — not only does it add some extra sparkle to her eyes, but it makes the liquid liner look even sharper. Interestingly enough, there's at least one rather unexpected crystal placement on her face, too. Note the sole gem placed between her nostril and lip — is that a new piercing?
Traditionally, a single stud right there is called a "Monroe piercing", so named for Marilyn Monroe's iconic mole found in the same location. While it's still unclear if this is an actual, skin-penetrating piercing or just another well-positioned crystal, neither explanation would surprise fans. Cardi has plenty of daring body modifications already, including a nose rings, dermal piercings in her chest, and two studs stuck through her bottom lip. She doesn't often wear them on the red carpet, but loves to take her followers on behind-the-scenes looks over on Instagram.
As far as her Renaissance Tour makeup goes, that crystalline eyeliner is more than just Beyoncé-approved. Stick-on face gems are enjoying an especially popular moment in general, used both for major events like concerts as well as for more everyday occasions, like a big night out with friends. Follow Cardi's lead and use it to accent your favorite makeup styles, or skip the liquid eyeliner altogether and just use rhinestones for the entire wing. You're guaranteed to catch the light with every facial expression.