Billie Lourd Covered Herself In Starry Crystals For Carrie Fisher's Walk Of Fame Ceremony
Kevin Winter/Getty Images Entertainment/Getty Images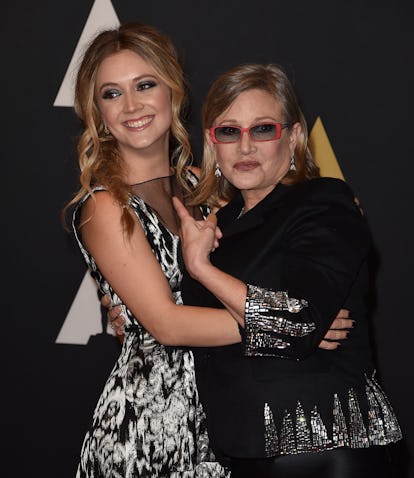 Some of the all-time best red carpet beauty moments are about so much more than looking pretty or nailing an especially of-the-moment trend. As she accepted a star on the Walk Of Fame on behalf of her late mother, the legendary Carrie Fisher, Billie Lourd used a playful approach to beauty to honor her mom, a move Fisher would have surely applauded. Billie Lourd's galaxy nails, gem-covered pair of pigtails, and face crystals at the ceremony might not have been as overt a Star Wars reference as her silk-printed gown, but nailed the starry theme in an unforgettable tribute.
Fisher's Hollywood Boulevard ceremony fittingly occurred on May 4, also known as the official Star Wars Day holiday. Joined by her husband and Mark Hamill, Lourd unveiled the Walk of Fame star to a cheering crowd just after a touching speech. Her twin pigtails featured a constellation of hair gems that matched the bodice of her custom Rodarte gown, but it's her brilliant nail art that really ties it all together. Each nail is covered in its own miniature, hand-painted galaxies, with her right middle finger depicting a tiny portrait of Princess Leia. Created by celebrity manicurist Diem Truong, they're so stunningly detailed.
A third-generation star, Lourd was famously very close to her mother, who died in 2016, as well as grandmother Debbie Reynolds. Accepting the honorary star, Lourd told the crowd, "My mom was glitter. She covered her world in it both literally and metaphorically. She left a mark of her sparkle on everyone she met." To drive the point home, celebrity makeup artist Jo Baker adorned the corners of Lourd's eye with glistening, tear-shaped face crystals, a match to her gown and the gems in her hair styled by John D. By keeping her actual hairstyle relatively simple, as well as the rest of her makeup, the reflective beads really stood out in the sunlight.
It's clear every aspect of Lourd's look was carefully, thoughtfully planned, a beautiful nod to the woman who left glitter everywhere. Now, everyone can see the gold-rimmed star sparkle on the sidewalk, too.