Gen Z Is Already Falling In Love With Billie Eilish's New 'Heat Map' Hair Dye
@billieeilish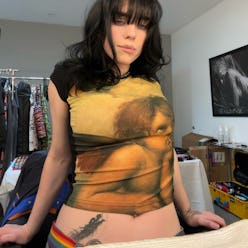 If there's one thing Billie Eilish will always do, it's subvert expectation. Just when the world thought she'd stay true to the jet-black-and-acid-green hair color combination, her signature as she first ascended to fame, she surprised everyone by reemerging from hiatus with as a bright, warm blonde. As soon as fans got used to that, it was back to black and, eventually, more Day-Glo neons. But her latest look happens to combine everything she's ever tried, all blended into one totally surprising explosion of contrasting shades. Eilish's rainbow hair is made up of yellows, greens, and reds, a brash burst of delightfully clashing colors that doubles-down on her unique sense of personal style.
In true Eilish fashion, she dropped a photo of her new look totally unceremoniously, casually working it into her Instagram Stories the way she would a picture of her dog, an airplane, or a latte. Taken from a high, downward facing angle, you can see the full scope of the neon shades. Bright red snakes up the back of her neck like a colorful undercut, also blooming from the center of her scalp, right where her bangs start. The pop of red is surrounded by a bright, orange-toned yellow — an homage to her blonde era, perhaps? — which is in turn encircled by electric green, her one-time trademark.
As the most dedicated Eilish stans know, major aesthetic shifts often precede musical ones. When Eilish first shifted to blonde, it was just before the start of her Happier Than Ever era. When she turned to her usual raven, it was just in time for her big release for the Barbie soundtrack. Considering this new hair color arrives on the heels of another significant physical change — she just shared pictures of a massive new back tattoo that runs from neck to hip — there's no telling with kinds of projects Eilish could be plotting.
Of course, while most of Eilish's Gen Z fanbase is loving the new look, they're also full of good natured jokes about the three-colored hair dye. Some have said it reminds them of those meteorology precipitation charts — you know, where green is mild rain and red is a torrential downpour? — while others say it reminds them of a heat map.
Regardless, it's still an undeniably cool look. And really, doesn't "Heat Map" sound like a song title she'd have in her discography anyway?