How Food Became Fashionable
A look into the stylish culinary influencers leading the pack.
@almondmilkmaiden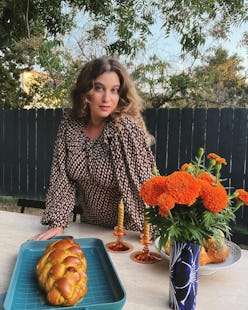 If you've been keeping a close eye on recent runways, you may have noticed a delicious trend. From Collina Strada's broccoli bag in Spring/Summer 2023 to the cherry print dress in Carolina Herrera's 2023 resort collection, food motifs are cropping up all over the place. But this isn't the only way fashion and food are joining forces. In the age of content creation — a time during which even the most tedious aspects of someone's everyday are curated, documented, and presented publicly — a new kind of trendsetter has emerged: the fashionable culinary influencer.
To be clear, the history of chic women preparing and sharing beautiful dishes is long. Martha Stewart, Giada De Laurentiis, and Nigella Lawson are among those who set the tone for the Sophia Roes and Padma Lakshmis of today. And particularly during the pandemic, the world got more of a peek into the domestic lives of glamorous supermodels (who could forget Gigi Hadid's spicy vodka pasta or Bella Hadid's chicken shawarma sandwich?) and actors who happily shared their culinary adventures online.
The most current examples of food/fashion influencers don't share one specific style; they're bringing their individual culinary backgrounds and inspirations to the table as well as their uniquely cultivated aesthetics, which embraces an even bigger online trend: accessibility. Some found their way into this collision of content as a way to create a healthier relationship with food, while others grew up working in family restaurants or creating recipes as part of a cultural tradition. The common thread among this emerging group is the ability to make cooking and baking more approachable, but also to present food as an artful and stylish form of expression — something to consider as thoughtfully as you might a favorite ensemble.
For Maryah Ananda, her route to creating food has been part of a larger journey to self-discovery. The culinary artist and model battled feelings of self-doubt, but learning to visualize food as a form of self-love changed everything. "Healing paved the way for me to love food and sit with the feeling of joyous nourishment," she explains. "I felt a lot of feelings around shame and unworthiness, so when I started to love myself from the inside out, my concept of love shifted." And sharing this discovery with her followers has been a way to pass this message along to others.
As a model, Ananda also has a unique perspective of the fashion world — a space more synonymous with its restriction of food than the embracement of it. Thankfully, she can see this shifting as more and more examples of people like herself step into the forefront. "When I first got signed as a model in 2017, I weighed about 130 pounds, and they still told me I had to lose weight," she tells TZR. "Having models fit the 'standard' sample size on the runway means they are very skinny, and what does that imply? That you have a super restrictive diet or you don't eat much. While this is not always the case, it's an old concept in fashion that needs to be refreshed. By valuing ultra-skinny models, the industry provides a dangerous narrative on the way food and fashion coexist. I believe there's a crossover between food and fashion content creators because looking good, feeling good in your body, and eating deliciously and joyously is so damn hot. We're starting to embrace different body types, skin tones, hair types, skin conditions, multi-hyphenated models (like myself). With this transition into marketing real people comes the embrace of food in the fashion space."
"I believe there's a crossover between food and fashion content creators because looking good, feeling good in your body, and eating deliciously and joyously is so damn hot."
Although a leader in the latest crop of fashionable food influencers, photographer, model, and baker Emily Alben was very much raised by her predecessors. Alben counts Ina Garten and the aforementioned Lawson as muses (she's even lovingly referred to as "Baby Nigella" by a friend, a nickname she says flatters her). "I started making their recipes and felt that same satisfaction in teaching myself new techniques and seeing my friends' and families' faces light up with that first bite," Alben explains.
After experimenting with their recipes, Alben began to find her own footing. And the brand she's created for herself is perfectly encapsulated by her Instagram handle, @almondmilkmaiden. Most of her dreamy photos take place amid the idyllic and fruitful landscape of Ojai (a California region synonymous with its excellent produce), Alben dressed in billowy Dôen blouses or Lykke Wulff lace-up bustiers presenting seasonal cakes and confections. "Both food and fashion are essential forms of self-expression," she says. "I care deeply about aesthetics and sharing content that is visually pleasing and artfully curated." So how would Alben define her style through one of her culinary creations? "A full-bodied citrusy olive oil snacking cake with lots of zest."
Kit Keenan is another example of a culinary influencer with a background in the fashion industry. The daughter of designer Cynthia Rowley, Keenan was surrounded by style from an early age. Still, her mother always managed to prioritize the idea of nourishment and the togetherness that comes from a shared meal. "Growing up, my kitchen was always a safe space of warmth and love for my family," she says. "My mom is an entrepreneur and, especially during fashion weeks, is always very busy. Even on days when she got home late from work, though, she would always make my sister and I dinner and catch up with us in the kitchen."
Keenan's social media feed had been primarily devoted to fashion and beauty content, but more recently, she started including culinary creations as part of her style repertoire and she was surprised to learn that her following was hungry for more. "Once I started seeing that I could make a difference by making cooking fun and approachable for young people and began building my community in the foodie space, I couldn't stop," she adds.
For Moonlyn Tsai, restauranteur and co-founder of Heart of Dinner, a nonprofit organization whose mission is to provide food and love to isolated elders in the Asian American community, making food is part of her DNA — literally. "I grew up as an 'industry baby' to parents who owned Chinese-American restaurants, and growing up in California gave me easy access to the finest agriculture," she tells TZR. As she forged her own path in the culinary world, the expansion into content creation was an organic one. "This passion led me to experiment with various ingredients and recipes and to share the excitement of finding ingredients to cook with, and so I started sharing my creations on social media."
If you ask these influencers, the growing trend of merging food and fashion isn't all that surprising, considering that creative expression is a cornerstone of both. In fact, Alben tells us that she dreams up a dish and an outfit in a similar way. "Both start with a form of inspiration — a vision, maybe, or a craving — that I'll reflect on to determine how I want to execute a look or recipe," she explains. "What unexpected flavors or pieces can I combine to create something that tastes or feels true to me? Then testing a recipe and trying on options until it strikes the perfect balance."
And Tsai agrees. Her experience of being a Californian and a Taiwanese American shows up in her food as much as it does the way she presents herself through clothing. "In the kitchen, I enjoy combining classic recipes from my background with new flavors and techniques inspired by my travels," she says. "Similarly, in fashion, I love to mix classic styles with modern trends and experiment with different textures and patterns. When creating a dish, I aim to bring together different flavors and textures to create something delicious. In the same way, when I put together an outfit, I want to combine different elements to create a look that is both stylish and comfortable!" And in both cases, her combination seems to be effective, considering the fact that the restauranteur was named one of Glamour's 2021 Women of the Year.
Ananda describes her aesthetic for both culinary creations and fashion as "cute and efficient [...] but within, there's playfulness and depth." She tells us that just as she begins her approach to a recipe with pantry staples, an outfit begins with wardrobe basics, like a favorite sweater. From there, personality is added layer by layer through added elements (though she admits to being a proponent of "less is more" in both instances). "I love plating things with lots of herbs, edible flowers, and colors that dance with each other," the culinary artist explains. "I just love the concept of vibrant bounty. So with that said, I also love playing with colors, patterns, and textures in both food and fashion." When she's not in the kitchen, Ananda, who has catered fashionable events including a Marc Jacobs fragrance launch as well as charitable ones (like the recent winter soirée hosted by Breaking Bread NYC to benefit One Love Community Fridge), can be found in a cutout Jacquemus jumpsuit one day, and a classic cotton button-down and jeans the next.
The fashion and culinary worlds on their own can often feel isolating or exclusionary, but what is so appealing about this cross-section of influencers is their relatability. Because social media is a platform for such a wide and diverse audience, it provides a great opportunity for education at a digestible level. For Tsai, relatability was an organic byproduct of cooking in a tiny kitchen. "My partner Yin and I have found ways to be creative and come up with unique dishes, despite our 18-inch stove that can only hold two pots at a time, tends to smoke, and, in true NYC fashion, set off the fire alarm," she laughs. "So, through my content, I hope to highlight the versatility of ingredients and demonstrate how everyday items can be transformed in different spaces, whether it be our NYC apartment, a more luxurious private-chef kitchen, or in a restaurant. I love sharing cooking techniques and tips that make the cooking process easier and more attainable. I want to emphasize that anyone can create delicious meals no matter what your space is."
So what's next for the intersection of food and fashion? According to Alben, more culinary brands focused on aesthetics. "I think we're seeing more of a crossover with the rise of DTC food brands that market themselves in a way that was previously associated with fashion," she explains.
Take KitchenAid's recent partnership with Marta del Rio Studio, for example. The celebrity stylist and creative consultant collaborated with the company on a limited edition collection celebrating the brand's color of the year 2023, hibiscus. KitchenAid's recent NYFW presentation included models donning creations by Del Rio as well as a handful of other emerging designers, creating this stylish synergy.
Tsai adds that similarly discerning consumers will shape the way both categories move forward. "People are increasingly interested in sustainable food choices as well as ethical and environmentally-friendly fashion options, which leads to more shared experiences and insights on both topics — further increasing the overlap between fashion and food," she says.
In any case, the rise of the fashionable food influencer shows no sign of stopping. And if you ask Keenan, that's a good thing. "I wish there were more creators who bridged these two worlds because there is synergy between the worlds of food and fashion," she admits. "There were very few examples I had growing up of creatives that cared about fashion and style and also loved cooking so I hope I can be an example of that for my audience."