Salma Hayek Went On The Record About Her Botox Use & It's Not What You'd Expect
Steve Granitz/FilmMagic/Getty Images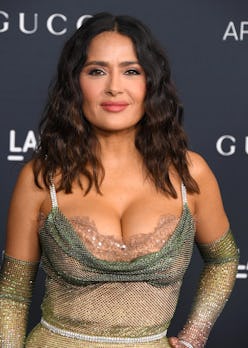 Salma Hayek's all about keeping it real, often the first one to speak up about self-image, the industry's approach to age, and her own relationship to her face and body. But while the Magic Mike 2 star is always upfront about what's doing and feeling, she's equally quick to correct the record on what she's not. Namely? Botox. Hayek told host Kelly Ripa that she's never touched the stuff on the latest episode her podcast, Let's Talk Off Camera. The pair were going deep on Hayek's most beloved beauty rituals when Ripa asked point-blank if she'd experimented with the specific injectable. Hayek declared herself totally Botox-free, instead attributing her remarkably unchanged-by-the-years visage to a specific form of meditation. Ripa, an avowed Botox fan herself, seemed more than a little intrigued — and frankly, same!
Describing her personal process for staying grounded and clear, Hayek goes so far as to call her personal meditation practices "strange." She tells to Ripa that assorted body and health issues led her to develop this distinct method, which is a continually evolving one. "It's actually feeling the energy," she explains, adding that she can meditate for hours at a time. "It moves and it dances inside of you, different feelings and sensations. So I do a lot of the frequency machines. Sometimes when I'm doing it, people tell me when I come out of the room, 'Oh my god. Again, you look 20.'"
So transformative is her near-daily ritual, Hayek says, that she notices her "face starts to drop" when she can't make time to fit it in. The screen star hasn't been shy about expressing her love for holistic health and beauty treatments like saunas, infrared light therapies, and homeopathic topicals, often documenting them on her own Instagram. This latest revelation fits right in with her overall aesthetic approach, but she's mum on exactly what goes down in her meditation room.
Plenty swear by a psychology-first, holistic plan for fighting visible signs of aging — especially firmness and muscle mass — but experts are rather divided over how much one can truly do for fine lines and wrinkles without a more robust intervention. And hey, Hayek ever wants to go the injectable route but technically stay Botox-free, there's always Daxxify, right?