Jennifer Aniston Shared A Rare Glimpse At Her Natural Gray Hair & Fans Are Loving It
James Devaney/GC Images/Getty Images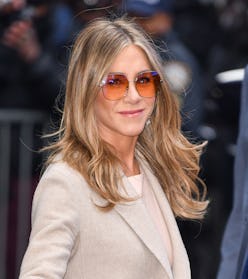 Part of Jennifer Aniston's multi-generational endurance as such a beloved pop culture fixture is in her ability to keep it totally real. One of the few A-listers willing to shatter that civilian-separating fourth wall on social media, she routinely takes fans and followers "backstage" at her home, talk shows, movie sets, premieres, and beyond to give an unflinching, always-entertaining look at what actually goes into a celebrity's daily schedule. Her latest relatable moment arrived as Aniston showed off the newest product in her LolaVie line. Jennifer Aniston's silver-gray hair took center stage in her Instagram video as she introduced her beauty brand's new Intensive Repair Treatment. As per usual, Aniston looked stunning in the Reels video, that burst of sparkling silver hair above her forehead adding even more radiance to the always-shining star.
Considering her status as keeper of one of Hollywood's all-time best manes, anything hair-related is well within Aniston's wheelhouse — if she wears it or declares it, so it shall trend. It's no surprise, then, that the comments below her video were filled support for the frank look at the celebrity grays. "A natural stunner," one declared, while another thanked Aniston for her aesthetic candor with, "Well done for allowing grey to come through — refreshing." Still another summed up the entire fandom's (Ani-stans? Fan-istons?) philosophy: "If the goddess is telling us what to do, WE DO IT."
Of course, a 54-year-old woman on-camera with a chunk of naturally gray hair technically shouldn't even be newsworthy — aging is the most natural process of all for those fortunate enough to experience it, but still frustratingly "taboo" for many. It actually is thanks to stars like Aniston that more and more women are feeling comfortable with their as-is features.
On the other hand, though, your hair is totally your prerogative. And in Aniston's case, it looks like this might be as far as she's willing to go with grays. Back in 2019, the star told InStyle that she plans to keep her trademark blonde forever through monthly appointment with her colorists, admitting to the magazine, "I'm not gonna lie — I don't want gray hair." And in fact, someone in her Instagram comments theorized that she was actually at the salon (or en route) when she posted her video.
Regardless of Aniston's commitment to forever blonde or lack thereof, it's always nice to see a celebrity get real, especially on social media. The ripple effect of one bombshell post can't be overstated.