Anne Hathaway Is The Under-The-Radar Beauty Chameleon Finally Getting Her Due
Kevin Mazur/MG23/Getty Images Entertainment/Getty Images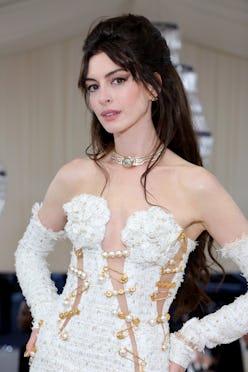 Anne Hathaway's easygoing reputation and reliably polished red carpet style are something of a double-edged sword. On one hand, her image as the effortless elegant girl-next-door makes her seriously beloved by more than just her own generation. But at the same time, it denies her a lot of credit — Hathaway has some serious edge, even if she's only just starting to be appreciated for it. Along with experimental outfits and movie roles, Hathaway's best hair moments reveal what a risk-taker the star really is. Cycling through a legitimately impressive assortment of hair colors, lengths, and styles, Hathaway's is the unsung beauty chameleon of Hollywood — and she even shaved her head on-camera to prove it.
Just look at the 2020s alone as something of a case study. She kicked off the decade with a revitalized mahogany hair color, emerged from quarantine with the chicest set of curtain bangs, transitioned them into wispy blunt bangs, then surprised everyone with the bob haircut heard 'round the world. In just three years, she's kept fans on their toes with just enough changes to keep things exciting. Below, take a look back at some of Anne Hathaway's best hair moments of all time.
Cascading Curls In 2004
Just a few years into her career, and Hathaway was already heating up the red carpet with back-to-back hairstyles all so different from each other. At the 2004 Vanity Fair Oscar party, her lush tousled curls were an instant hit.
Major Side-Bangs In 2006
How does Hathaway make something so of-the-moment feel so timeless? It's undeniable that side-bangs helped define the mid 2000s, but the way her fringe blends in with the rest of her long layers would look totally at home in 2023, too.
In-Between Lengths In 2008
Long bobs look incredible blown-out, and Hathaway's collarbone-length cut is all the proof you need. Gently curling under for that enviable c-shape still so popular today, her entire look is so effortlessly polished.
Vintage Curls In 2010
Hathaway's classic beauty means some of her best performances are in period pieces (she does not have "iPhone Face"), but she loves vintage hair in real life, too. It's the way that her curls turn inward that gives this center-parted style Old Hollywood appeal.
A Sleek Chignon In 2011
The best hair moments don't always mean the most dramatic hair moments — simple can be striking, especially when the style is this sophisticated. Hathaway's sleek, classic chignon is as fresh as it gets.
An Award-Winning Pixie In 2013
Undoubtedly her most instantly recognizable award show look, Hathaway's thick, side-swept pixie cut from the 2013 Oscars is actually in its grow-out stage. After shaving her head for Les Misérables, she spent the next few years showing off just how chic ultra-short hair is.
Jet-Black Layers In 2015
Embracing her edgy side more overtly than ever before, Hathaway kicked off 2015 with a new, jet-black hair color that added goth-glam flair to every look she subsequently wore.
Warm Ombré Waves In 2016
Ombré hair color techniques capture the best of both worlds. For Hathaway, this beautifully in-between look is a bridge between the dark, moody raven she loved in 2015 and the brighter blonde she experimented with in 2018.
Full-On Blonde In 2018
Behold, the final form. After experimenting with a bit of blonde through her ombré hair color, Hathaway decided to just jump in with both feet. The warm, gold-toned color she settled on features enough red for extra dimension, too.
Returning To Her Roots In 2020
It's like a homecoming — Hathaway returned to the dark side, dyeing her hair back to her signature glossy mahogany shade in 2020. Even in a straightforward set of brushed-out curls, the color just screams luxe.
Retro-Inspired Volume In 2022
Adding in some long layers and vintage-inspired curtain bangs proved to be an excellent decision for Hathaway. At the Cannes Film Festival in 2022, she leaned into the retro glamour of her cut and went for the perfect amount of teased volume through her crown.
A Bob With Bangs In 2023
Hathaway already has fans fired up about her choice to cut straight-across bangs at the top of 2023 — but by the end of July, she'd shake things up once again with this French-girl bob that falls right to her jawline.