Angelina Jolie's Elegant Updo Puts Her French-Girl DNA On Full Display
Mondadori Portfolio/Mondadori Portfolio/Getty Images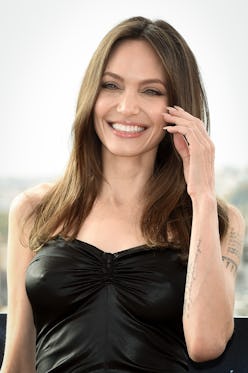 When you're staring down a busy day, some strategic styling is pretty much an essential. Layered outfits, comfortable shoes, and a roomy tote are all standard-issue for a jam-packed schedule, but it's crucial to not forget about everything happening above the neck, too. Angelina Jolie is tasked with a pretty hefty load: she's caring for her kids, managing her work obligations, and balancing her humanitarian efforts — but she doesn't neglect her relatively new blonde highlights in the process. Jolie's French twist updo is at once a timeless and practical hairstyle for running between appointments and events without sacrificing any polish. Though a more unexpected alternative to a classic ponytail, the best part about this hairstyle is that it's not at all difficult to nail, even if you've only got a few minutes to pull it all together.
Jolie was spotted with the sleek, combed-back bun in Rome, with her breezy outfit matching the effortless elegance of her hairstyle. Notably, her updo is less formally structured than a traditional French twist, a bit looser and lower-pinned. But really, that's what makes the look so cool — it's far more casual than the tight, hairspray-stiffened roll she might have if she were stepping out onto the red carpet rather than Rome's cobblestone streets.
MEGA/GC Images/Getty Images
MEGA/GC Images/Getty Images
While the Italian paps didn't manage to capture a clear pic of the hairstyle's backside, even the quick glimpse in profile managed to show off a flash of her golden blonde highlights. When Jolie first switched up her signature deep brunette shade earlier this year, she made the choice to largely concentrate the color toward her ends, like a 2023 version of ombré. The result is such that when she twists it all up, the top of her hair and the bun itself are two complementary shades.
The Maleficent star has worn her hair in a pseudo-French twist several times before over the years, but there's always something special about seeing her opt for the look "in the wild." Red carpet hair moments are always excellent for gathering big event and overall trend inspiration, but there's nothing like a casual European stroll to really a co-sign a style. Follow Jolie's excellent example and try it out this weekend.