Of Course Angelina Jolie Is Tapped In To The Trendiest Manicure Of 2023
Nothing *vanilla* about it.
Alex Wong/Getty Images News/Getty Images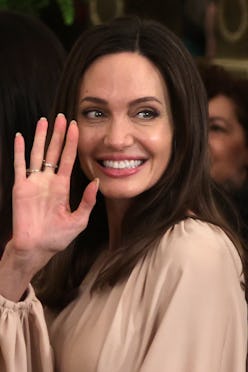 Does anyone else feel like Angelina Jolie is amid a full-blown personal revolution? She's doubled-down on her humanitarian efforts, debuted an incredible (yet so unexpected) new hair color, and seems to be ramping up her creative projects in every category. It makes sense then that Jolie's street style game would hit a glorious new peak, too — every time she's stepped out in public this summer, she's dressed to the nines with an immaculate hairstyle to match. Jolie's almond-shaped nails were just spotted on her latest family outing, filed into the long, elegant style with just enough point at the tips for a hint of edge. But really, it's the nail color itself that's especially notable.
Jolie was photographed in New York City, dressed in sleek head-to-toe black pantsuit complete with flashbulb-shielding sunnies. Enjoying a day out with her son, Pax, Jolie's crisp trousers and polished blowout are an undeniably sophisticated combination. That elegance extends to her nails, which feature soft, eggshell-colored French tips. The shades chosen are a far subtler take on the classic pink-and-white style, looking much more like the celebrity-beloved "French Vanilla" manicure trend as anything else. Considering Jolie's always-excellent track record, it's no surprise she gravitates toward understated glamour with her nails.
Already worn by fellow A-listers like Jennifer Lopez and Lily Aldridge, the look simply features a lighter, more neutral base shade in lieu of bright pink, with off-white tips rather than a starker shade. Because the colors don't contrast as starkly, they create a more seamless blend and a more natural look overall — perfect for a celebrity with Jolie's Old World sense of aesthetics.
While the actual manicure style is a newer one for Jolie, she's loved almond-shaped nails for years now. She's worn long, tapered nails to all sorts of major red carpets and high-profile premieres, but something about making the look a day-to-day staple feels even cooler. As Jolie spends more and more time back in the public eye, expect even more exciting beauty moments from the always-chic star.