Alicia Keys' Latest Hairstyle Will Give You The Sudden Urge To Take A Trip
Kevin Mazur/MG21/Getty Images Entertainment/Getty Images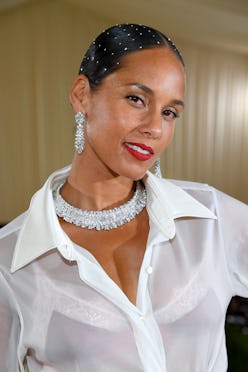 Alicia Keys would like to welcome you to paradise — somewhat literally, too. As part of her major partnership Hennessy's Paradis blend, the musician-mogul celebrated with high-profile guests, a jaw-dropping locale, and the best vacation hairstyle of all time. Alicia Keys' beaded braids would look incredible in any setting, but paired with her plunging scarlet gown and the dreamy Joshua Tree backdrop, they're next-level. With warmer weather just on the horizon, her event look doubles as the ultimate springtime protective hairstyle inspo.
As the legacy liquor brand's new face, Keys was tasked with both a live performance and infusing the star-studded party with her distinct, elegant energy, and, judging by the guests who attended, was wildly successful. Gabrielle Union, Elizabeth Olsen, Chriselle Lim, and Stella Maxwell made up just a portion of the celebrity attendees, all of whom arrived in their best takes on glamorous desert-wear. While guests like Union and Olsen opted for sleek ponytails, Keys left her center-parted braids down and free-flowing, with rows of metallic beads reflecting the desert sun's waning rays. By the time Keys took to the piano for renditions of some of her most iconic songs — "No One" fans, she sees you — at Joshua Tree's Kellogg Doolittle House, the entire crowd was fully enraptured.
While the stacks of silver and gold beads would be a once-in-a-lifetime look for many, in Keys' world, it's just another weekend. The Keys Soulcare beauty brand founder loves to dress up her always-excellent natural hairstyles with opulent accessories, including crystals, rings, wires, and full-on pieces of diamond-studded jewelry. She even once accessorized her Met Gala look with a constellation of shimmering rhinestones places strategically around her center part.
Keys' new partnership with Hennessy just gives her more room to experiment with the trendsetting beauty looks. Put a creative mind like Keys in a gorgeous setting with fellow stylish celebrities and $1,000+ bottles of the world's best cognac? The world's bound to reap more than a little hair, makeup, and fashion inspo from that meetup.