Reese Witherspoon's '90s Hair Is All The Bob Styling Inspo You Need
It's possible to make your 21st century version just as fun.
Jim Smeal/Ron Galella Collection/Getty Images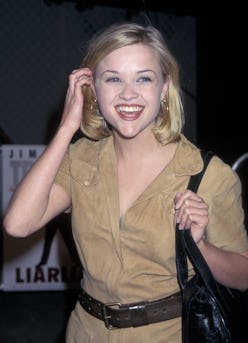 Any person with a bob has experienced the feeling of long hair envy. Even if you don't admit it and absolutely adore your newer, shorter hair, the occasional regret can seep in when you realize there seems to be far fewer style options than when your wee hairs had a few more inches. These easy bob hairstyles (courtesy of Reese Witherspoon's undeniably chic '90s self) will give you a little assistance when it comes to getting creative with your hair. No more tiny ponytails!
These ideas go beyond your basic braid, but don't wander too far into pro territory, and despite them hailing from another era, they're surprisingly relevant and exceed today's style standards. If Witherspoon was able to prove just how easy it is to style a bob during the grunge era, it's possible to make your 21st century version just as fun.
During the '90s, the actor tested a multitude of looks, including simple arrangements of clips and bobby pins, lush, brushed-out curls, and an edgy uneven part, showing that styling short hair isn't so difficult after all. Up ahead, you'll find a collection of styles pulled from then that will last you through every season and any wave of trends.