The Haircut Trend You Should Try This Fall, According To Bella Hadid, Jennifer Lopez, & More
Beretta/Sims/Shutterstock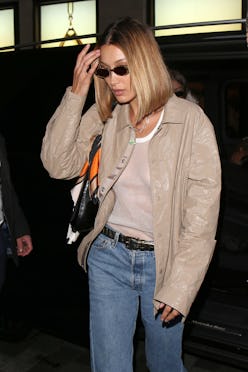 'Tis the season...for celebrity hair changes. Yes, there's something in the air this fall — and it's clearly driving stars to seriously switch things up in the hair department, no holds barred. And while many of the new looks run the gamut, there's one style that's clearly reining supreme: It's fall 2019's bob trend, and it's taking over Instagram, runways, and red carpets everywhere. The stars (and their hairstylists) have spoken — this is *the* haircut to have for the season.
In case you're in doubt, just look to the high-profile stars who have given the cut their stamp of approval. One of the first was Jennifer Lopez herself, who debuted the new style in August at an event for Hustlers. Then, many others followed suit. Priyanka Chopra and Ashley Benson showed off their long-bob styles (aka "lobs") at the start of September, setting the stage for other stars like Bella Hadid and Karlie Kloss to debut even shorter versions of the cut just after. And yes, the list goes on.
There's been a bevy of hair transformations this fall, including unexpected color switch-ups à la Kendall Jenner and Mila Kunis, as well as other trendy styles like Courteney Cox's shag cut. But it seems that nothing's catching on quite like the classic bob — and it may be a sign it's time to try it for yourself. Keep scrolling for haircut inspo from eight celebs should that be the case.
Jennifer Lopez
Jennifer Lopez may be known more for long hair, but she can still pull off a short-hair look like a pro. The Hustlers actor traded in her longer locks for a shoulder-length bob thanks to Lopez's hairstylist, Chris Appleton (who's behind more than one of the notable celeb hair changes this fall).
Bella Hadid
Bella Hadid went back to one of her favorite styles during London Fashion week this year, stepping out with a fresh cut on the Burberry runway shortly before debuting another major drastic hair transformation: pitch-black hair.
Karlie Kloss
"*Cuts hair mid fashion week*" was Karlie Kloss' caption on Instagram when she debuted her new chop to the world on Sept. 26. It seemed to be the theme all throughout fashion month, with the model quickly hopping on the bandwagon with a very chic (and short) cut by celebrity hairstylist Jacob Rozenberg.
Jorja Smith
Jorja Smith made an appearance at London Fashion week on Sept. 16, stepping out in a sleek monochrome look for the Burberry show and an even sleeker bob to match. The hairstyle was courtesy of her hairstylist Zateesha Barbour, and was a major switch-up from her normal long ponytail.
Julianne Hough
Julianne Hough also joined the crowd of celebrities getting in on this trend in September, unveiling her super-short bob at the America's Got Talent finale. Though the AGT judge previously had a lob, she and her hairstylist Riawna Capri actually cut her hair backstage before the finale in a last-minute decision, according to Refinery29, going with a much shorter look overall. Judging from the stunning result, it's probably one Hough doesn't regret.
Ashley Benson
One of the longer bobs of the season was Ashley Benson's, who posted her own cut to Instagram on Sept. 4. The actor previously had locks that extended a few inches past her shoulders, but clearly felt it was time for what the beauty world has dubbed the "clavicle bob," and made the change just in time for fall. Like Hadid, Benson also wasn't done with her hair transformation, though: She posted a photo of newly dyed dark-brown hair on Instagram just a few weeks later at the beginning of October.
Priyanka Chopra
Possibly the best part of the bob haircut is that it doesn't have to be super short to look chic — and Priyanka Chopra's latest look is proof of that. Hairstylist Harry Josh gave the actor a deeper color and a shoulder-length chop in early September, showing that even a subtle change can serve as the perfect update for a new season.
Kim Kardashian
The Kardashian-Jenners are definitely no stranger to hair changes, so it's not at all shocking that Kim Kardashian decided to give this trend a try (albeit for a short time) this fall. The 38-year-old's hairstylist, Chris Appleton, took to Instagram to announce her new look on Sept. 11, captioning his post: "Yesterday we cut @kimkardashian the shortest we have EVER done it. You guys think we should keep it or nah?" Clearly, Kardashian didn't think so, because she appeared on Appleton's feed again just the next day with her hair extensions back in full force, sporting long, dark locks that made it look like her bob cut never actually happened.