How To Wear Rhinestone Bobby Pins Without Snagging Your Hair To Oblivion
Imaxtree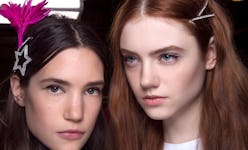 For years, bobby pins were considered one of those hair accessories that were tools rather than an actual accessories. But now, the little metal fasteners aren't just for holding hair in place — they've become an essential component for updos, down-dos, and for rescuing lazy hair days (a bobby pin ladder takes two seconds to do, tops). These days, the fasteners are looking chicer and sparklier than ever, as rhinestone bobby pins continue to pop up on the runways (like at Zadig & Voltaire Fall and Winter 2018) and on Instagram feeds everywhere.
"Oversized crystal bobby pins can be used to create a whole look with the entire pack or with just one or two for a more subtle finish," celebrity hairstylist Justine Marjan, who just released a capsule collection of statement pins with Kitsch, tells TZR. "I love one crystal bobby pin on both sides of a middle part for a '90s vibe, or two words above the ear for more of a statement."
If you're concerned about the gemstones snagging your hair, Marjan says to always opt for quality to ensure that your hair stays in good shape. "A good quality pin will have a little flexibility, MariLynne Cosmillo, Director of Education for Cherry Blow Dry Bar, says. "As you're shopping, try opening the pin. If it seems impossible to open, it's definitely going to snag at your hair, and is unlikely to even hold the hair well enough."
Another common issue with pins is the fact that they tend to slide out or move around on straighter textures. To prevent this, "use a mousse when you prep and after, you can tease a little bit and slide the clip in. Or just simply use texture spray or hair spray. Hold the hair down for tension so you get a good grip," celebrity hairstylist Jennifer Yepez instructs.
Cosmillo has a similar trick: "Always spray a texturizing product at the base of your hair where you plan to wear the bobby pin. A texturizing spray (think Oribe Dry Texturizing Spray or IGK Detox Dry Shampoo) for grip. This will help hold your style and pin in place, much better than a hairspray will!"
Ahead, see some of the sparkliest (and safest) pins of the season.