Essie Sells 34 Bottles Of This Exact Nail Polish Shade Every Single Hour (!)
Essie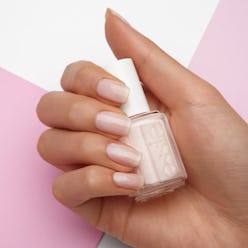 Cult Status is our series that highlights an iconic item from brands both established and buzz-worthy. In these features, you'll discover the fascinating history of how one extra-special piece exceeded expectations and became a forever product. This time, the focus is on Essie's Ballet Slippers Nail Polish.
Walk into any nail salon on planet Earth and you'll likely find several dozen pale pink polishes lining the wall, each shade within one barely decipherable degree of difference from one another. Yet, within that sea of soft pink polishes, there's one bottle that reigns supreme: Essie Ballet Slippers, a best-selling nail polish shade for decades. It's the quintessential pale pink that rules the category and has earned a very reputable stamp of approval from the Queen herself — along with celebrities, brides, and just about anyone who's ever treated themselves to a manicure.
The polish launched in 1982 and has held its best-selling claim ever since. According to the brand, 818 bottles of Ballet Slippers are sold every day in the United States alone — that's about 34 bottles every hour — driving home the popularity of this seemingly simple sheer polish even among us average Joes. The beauty loving universe also set the record straight, as it was named CEW's Iconic Consumers' Choice Beauty Award and Allure's Reader's Choice Award earlier this year. And just in case you're still skeptical, a quick Google search will surface nearly 50,000 five and four-star reviews with fans across the world gushing over the staple polish.
Clearly, the obsession was real from the start. But it was seven years post-launch when Queen Elizabeth II — you know, the Queen of England — launched it into a new tier of super-stardom when she had her hairdresser send Essie Weingarten, founder of the brand, a letter requesting the shade be delivered directly to Buckingham Palace. "That's when it reached a new 'icon' status, when the Queen of England gave it this royal stamp of approval," Jessie Feinstein, Essie's VP of Marketing, tells TZR. It's a powerful stamp that left Royal Highnesses Kate Middleton and Meghan Markle following royal manicure protocol — heck, Markle wore Ballet Slippers for her very public walk down the aisle in May 2018 when she wed Prince Harry.
The color itself is pigmented enough to even out any imperfections or inconsistencies across your nail beds and just sheer enough to be almost adaptive in nature, complementing the fairest fair tones, the deepest dark tones, and every unique shade in between. The just-glossy-enough finish leaves nails looking freshly polished and clean without being distracting, and I personally swear by its ability to make my stubby little fingers look a wee bit longer and more dainty. "People all over the world, no matter their skin tone or age, continue to fall in love with this perfect sheer pink," Feinstein says.
As for the name, "it conjures up a soft, graceful pink with an old-fashioned, almost nostalgic femininity," Linda Wells, founder of Flesh Beauty, tells TZR. "Ballet slippers are the first shoes most girls wear to dance class. The name suggests that innocence. The color isn't called Pointe Shoes, which signals pain to me or Tap Shoes, which sounds razzle-dazzle." In today's world, it's become commonplace for nail polishes to have some of the cheekiest names imaginable with witty puns and clever plays on words that stir up an immediate social response. Ballet Slippers is refreshingly sweet, which is what makes it stand out.
Aside from the Queen's co-sign, celebrity A-listers like Barbara Streisand, Salma Hayek, and Jennifer Lopez love showing off the ever-elegant Ballet Slippers on their hands. "We continue to see the shade as a red carpet staple for celebrities, from from Emma Stone [above] to Constance Wu," Feinstein reveals. Because no matter what the occasion is, it's a shade that truly works for every look, celebrity manicurist Josephine Allen says.
Still, 1982 was nearly 40 years ago, and things are a tad different today. A classic nude has evolved to encompass a range of 50+ "neutrals", and descriptors like "universally flattering" are used for every shade, leaving consumers searching — and swatching — endlessly. "Today, pale, neutral nail polish is more nuanced and sophisticated than it was when Ballet Slippers was born," Wells says. "Brands offer nude polishes for each shade of skin. For that reason, choosing a neutral, natural nail color is almost like choosing a foundation. You want the shade and its undertones to work with your skin color." Yet, despite changing times and the growing demand for more catered shade matching across all beauty categories, the universal love for this sheer pink polish remains the same. If the Queen tells me this is the perfectly polished, Royal-approved manicure, who am I to argue with that?