The Internet's Already Fallen In Love With Essie's Summer Nail Polish Collection
essie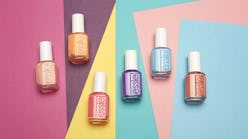 It's almost officially time to retire your spring pastels. Although May's only just begun, essie's Summer 2019 collection has landed online — so it's basically like summer is already here, right? With the new collection comes a crew of neon nail colors inspired by tango music, dancing, and Argentina's lively plazas. And it's safe to say that the electric shades are going to be popular this season: Before the collection's even officially been available for purchase, one shade's gone ahead and made its red-carpet debut. (Or rather, pink-carpet debut. But more on that later.)
The nail collection's color story is an interesting one all on its own. It's a blend of staple summer shades — like hot pink and orange — with a few complementary colors thrown into the mix. Retailing at $9 per bottle, there are shades like soles on fire, tangoed in love, and take the lead — an unexpectedly bright sky blue that looks like a a perfect summer sky. But paired with the neon hues are two relatively subtle shades: claim to fame (a burnt clay color) and in full swing (a delicate peach).
The finish essie chose for the collection adds another interesting element to the nail polishes, too; the collection features "demi-matte" nail colors. So, they aren't too glossy, and not too flat.
The shades are even brighter outside the bottle than they are inside — and Elle Fanning's Met Gala 2019 nails are proof. The celebrity manicurist Mar y Sol Inzerillo used the neon pink strike a rose shade to create a base for Fanning's campy, charm-accented gala nails. Besides winning over hearts across the internet, photos of the actress' nails also show exactly what the demi-matte finish really looks like; and it seems like the unique look pairs perfectly with the electric shades.
The Summer 2019 collection will be available on essie's website starting May 19, as well as at salons and beauty stores nationwide. Keep an eye on the brand's site to make sure you get the shades once they drop — because not only is the collection bound to be a hit, it's also limited edition. So once the six shades sell out, they're gone for good.
Ahead, every new color from essie's new summer collection.