Victoria Beckham's Vast Lash Mascara Is The Only One That Doesn't Smudge On Me
It's almost too good to be true.
Sarah Y. Wu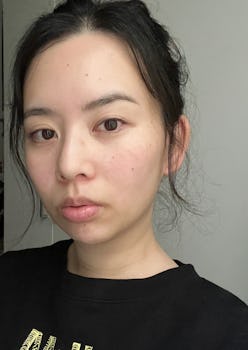 We may receive a portion of sales if you purchase a product through a link in this article.
In our series Trial Run, TZR editors and writers put the buzziest new beauty products to the test and share their honest reviews. This week, beauty writer Sarah Y. Wu is testing Victoria Beckham Beauty's Vast Lash Mascara.
As someone with very few lashes to speak of, I should, in theory, love mascara. Unfortunately for most of the ones I've tried, I'm also cursed with under eyes that attract flakes and smudges like it's their sole purpose in life. I've tested waterproof versions and formulas that tout 16-hour wear, but no matter the claim, each tube starts the day coating my lashes and ends up smeared all over my dark circles. Some might be able to pull it off as a nod to the anti-mascara eyeliner trend on TikTok, but I am not so lucky. So when I heard that Victoria Beckham Beauty was launching Vast Lash Mascara, a smudge-proof volumizing formula, I was fully prepared to hate it. However, I was pleasantly surprised.
Volumizing mascara have always smudged the most on me, pairing their dramatic results with an equally dramatic amount of flaking. So I was shocked to the point of confusion the first time I wore this one and didn't experience a single bit of fallout. Was it a fluke? To be sure, I put it through a few rounds of testing, from a therapy meltdown, to date night, to sweating through backbends in flexibility class. Ahead, my honest thoughts on whether Vast Lash Mascara truly lives up to its promises.
Fast Facts
Price: $32
Size: 6.64 ml/0.22 fl oz
Clean/Cruelty-Free: Yes
Best For: Those that want a volumizing mascara that doesn't clump or smudge
Ingredient Highlights: Tahitian sea microalgae, panthenol, niacinamide, vitamin E
What We Like: Dramatic volume in one coat; easily buildable; doesn't clump; doesn't smudge or flake; sweat-proof; easy to remove; gentle on lashes
What We Don't Like: Not the best formula for holding curl, especially on straight lashes
Rating: 5/5
How TZR Keeps Score: 1/5: Making a return; 2/5: Keeping as a backup; 3/5: Finishing to the last drop; 4/5: Recommending to my group texts; 5/5: Already on auto-replenish
The Formula
Vast Lash boasts 12-hour wear, flake-proof, smudge-proof, and humidity-proof claims. Yet, it's still meant to remove easily, requiring nothing more than warm water. According to the brand, it's a feature of their "water-activated Instant Release Technology," a formula that allows the mascara to gently detach from your lashes into "tiny water-soluble filaments that rinse away entirely." If this sounds familiar to you, you've probably used a tubing mascara before.
Ginger King, cosmetic chemist and founder of FanLoveBeauty, says that tubing mascaras differ from traditional mascaras because they don't adhere formula to your lashes. Instead, tubing mascaras wrap each eyelash in a tube-like structure using a blend of polymers and film-forming waxes. This structural difference also makes removal a breeze. "The polymers and waxes that envelop your lashes can be removed with water and a cleanser if needed," says King.
According to the brand, Vast Lash Mascara isn't a tubing mascara but uses its own "exclusive water-activated instant release technology" that unlocks from each lash in small, water-soluble filaments. The result is a budge-proof formula with a dramatic amount of volume — and in just a single coat. I'm not sure exactly what sorcery went into balancing it all, but it truly combines the smudge-proof properties of a tubing formula with all the volume my heart could ever desire.
While Vast Lash doesn't come with waterproof claims, it does promise to hold up against sweat and humidity for up to 12 hours. King says the copolymers and waxes in the formula form a shield that defends against mascara transfer due to skin's natural sebum or humidity. It also features nourishing ingredients meant to act as "hair care for your lashes." These include microalgae, panthenol (pro-vitamin B5), niacinamide (vitamin B3), and tocopherol (vitamin E). "You'll see these ingredients used for both skin and hair care as nutrients," says King. Combined, they kept my lashes feeling strong and healthy.
My Typical Eye Makeup Routine
My eye makeup is as fickle as my mood. Some days I'll wear nothing; other days I'll wake up and do duochrome lids, complete with glitter liner and crystal accents. Whatever the vibe, I have a short list of trusted essentials for any eye look. I always start with a swipe of Milk Makeup's Hydro Grip Eye Primer, which creates a smooth, grippy base for color and keeps my concealer from creasing. I use two types of brown eyeliner: one liquid, one pencil. Benefit's They're Real! Xtreme Precision Eyeliner in Xtra Brown has the ideal superfine tip for drawing wings and flicks with ease. I pair it with Milk Makeup's Infinity Long Wear Eyeliner in Limitless on my lower lash line. I love the way the formula holds up all day, and the built-in smudger helps me get that perfect smoked-out definition.
When it comes to mascara, I usually just say a little prayer and carry makeup wipes to clean up smudging throughout the day. For a lifted base, I have yet to find anything that compares to Surratt Beauty's Relevee Lash Curler, which creates beautifully curled, fanned-out lashes with minimal pressure.
My Experience & Results
Victoria Beckham Beauty calls this mascara "Miami-proof," which I take to mean it's good at lasting through sweat and tropical weather. I live in Berlin, which has a climate that could never be mistaken for Miami, but still doesn't do anything for my mascara wear time. Since my first day of testing didn't involve any stress tests beyond my smudge-happy under eyes, I decided to ramp it up for the next few rounds. First, I brushed on a single coat before therapy, where I proceeded to cry all over my therapist's couch. Since this mascara doesn't claim to last through tears, I wasn't sure how bad the aftermath would be. But a quick check on my way home showed no smudging, just a pair of bloodshot, puffy eyes.
Next, I wore it on a date. I will preface this by saying that if I'm staying the night, I never bother wearing makeup — partly because none of my dates stock good cleansers in their bathroom cabinets, and partly because sex is not conducive to makeup staying put. I actually committed the cardinal sin of forgetting to remove my mascara until the sun came up, but when I looked in the bathroom mirror, there was such minimal flaking, it was barely noticeable.
For the final test, I wore it for more than the promised 12 hours, starting with a flexibility class in the morning. Maybe that doesn't sound strenuous, but try falling into a backbend for an entire hour and see how much you sweat. I meant to photograph the results exactly 12 hours later, but a late dinner resulted in me coming home at midnight, after 16 hours. My T-zone was oily and my highlighter had started to migrate a little, but my mascara? Locked in place.
If I have one minor complaint about Vast Lash, it's that it could be better at holding a curl. I have short, straight-ish lashes; they don't slope downward, but they're also not naturally lifted. While the formula didn't weigh my lashes down, it also didn't keep them in place as well as some of my lifting mascaras. That said, the benefits fully made up for it: the glossy black finish, dramatic volume in a single coat, lack of clumping, and — most importantly — the fact that it doesn't smudge on me. Removal was also as easy as promised. After splashing on some warm water, I "wiped" the mascara off using a gentle sliding motion, then used a gentle cleanser to wash away any residue.
Is Victoria Beckham Beauty's Vast Lash Mascara Worth It?
If you're looking for your next volumizing mascara, this is the one. The amount of dramatic fullness it delivers without clumping is truly impressive. Add the smudge-proof technology, and you have a formula that can outlast anything (yet washes off easily and doesn't damage your lashes). I've tried hundreds of mascaras over the course of my career as a beauty editor and writer, and Victoria Beckham Beauty's Vast Lash Mascara easily wins as my favorite volumizing formula to date. Whether or not you deal with excessive smudging, it definitely deserves a spot in your makeup bag.