A Complete Guide To The Most Buzzy Types Of Mascaras
@toofaced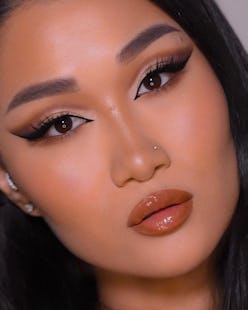 We may receive a portion of sales if you purchase a product through a link in this article.
Until recently, purchasing a new mascara was a quick pick-me-up no matter where you were. Whether at a drugstore or aimlessly wandering the makeup counters at your favorite department store, somehow, a fresh tube would find its way from the shelves onto your lashes. Back then, deciding between black or brown and traditional or waterproof were the only factors to consider before making a purchase. But in today's era of social media, the product has had an awakening thanks to layering techniques showcased by creators and brands creating sophisticated formulas and brushes. Needless to say, with so many types of mascara available, the inky makeup product is officially in its 2.0 era.
With origins dating back to ancient Egypt when kohl was used to pigment lashes in order to ward off evil spirits and protect the windows of the soul, it's clear that the idea of lash-enhancing makeup is nothing new. And though it took some time, the world would officially be introduced to the history-making formula that paved the way for modern mascara. Initially developed by French chemist Eugène Rimmel in the 19th century, mascara (known as Rimmel at the time) was locally used and didn't have much mainstream success until Maybelline was born and released their iconic formula in 1913.
In short, mascara has endured the test of time — resulting in diverse formulas aimed to deliver a range of distinct lash styles. Ahead, TZR tapped two leading makeup artists for expert guidance on all things mascara, including a breakdown of formulas, brush types, and how to get the best effects from top brands.
Formula Vs. Brush: Which Is Most Important?
Regardless of where you are shopping for a new tube of mascara, these conflicting questions are always top of the list: "Is a thicker formula better?", "Will a fluffy brush be too clunky?", "Can a comb wand also give volume?" If this sounds familiar, you're not alone. To set the record straight once and for all, L'Oréal Paris celebrity makeup artist, Allan Avendaño, tells TZR that the formula and the brush hold equal weight in determining the overall lash look. "The formula is crucial for dictating how you want your lashes to appear while the brush is important for creating the desired effect," he says.
To break it down further, celebrity makeup artist Elizabeth Seropian adds that the mascara composition is the key to knowing what to expect from the product. "A volumizing formula, for example, isn't developed to add length and vice versa," she says. In fact, formulas often vary in density depending on the ingredients. "Heavier formulas tend to be waxier than lighter options which have a mousse-like consistency," says Avendaño.
The Most Popular Types Of Mascara
Don't get it twisted: variation is a great thing when it comes to makeup – especially mascara. However, all of the options makes finding your favorite overwhelming. "All mascaras aren't created equally, but knowing the basics about formulas, brushes, and wands is the best place to start when shopping," says Avendaño.
Volumizing Mascara
Designed to add thickness and a fuller look, volumizing formulas have a heavier composition meant to amp up the drama. The concentrated formulas are often packed with intense pigments that add bulk to the individual lashes for a fan-like effect. Seropian tells TZR that these usually come with a brush that has dense bristles to coat rather than separate.
With a thicker consistency, clumping is a common concern with this type of mascara, but Seropian assures that a bit of wiggling is all that's needed to avoid a mishap. "Start at the base of your lashes then gently brush through the tips to evenly distribute," she says. If more product is needed, simply apply additional thin coats to build up the look.
Lengthening Mascara
Right behind volume, length comes in as the second most desired effect from a mascara formula. Whether you're going for a natural look or extreme, these mascaras have the ability to define lashes. "This type of mascara is formulated to separate your lashes in order to elongate your lashes and make them appear stretched," says Seropian.
With that in mind, the wands tend to have a plastic comb-like ending as opposed to a brush to untangle and deposit formula evenly to each individual lash. While a lengthening mascara can work on anyone, Seropian notes that those with short and undefined natural lashes will most benefit from them.
Fiber Mascara
Just as the name alludes, this type of mascara places tiny fibers that adhere to lashes for an impactful look. Aside from the depositing technique, fiber mascaras merge the best of both worlds to deliver a look that is both lengthening and volumizing. This makes it ideal for those with fine lashes, as it is for those who want a built-up look that is defined without being too heavy.
Though the type of wand for a fiber mascara can vary between a brush or comb, it will likely be cone-shaped. "A conical brush can create a fanned out and feathery look but is also great for adding length to the outer corners to extend the fan-like look," says Avendaño.
Tubing Mascara
Tubing mascaras have been creating a lot of social media buzz as of late, thanks to their unique ability to individually wrap lashes with tube-like structures that are both smudge-proof and water-resistant. As you may have guessed, this kind of mascara adds a lengthening look that is often likened to lash extensions. Most often these formulas are paired with a stiff-bristled brush that helps separate and evenly dispense the product from lash to lash.
But the tiny tubes are also beloved for their ease of removal. "Created with polymers, the structures stay put throughout the day and can gently be discarded with a rinse of warm water and cleanser, no harsh rubbing needed," says Seropian.
Waterproof Mascara
Before tubing mascaras came on the scene, waterproof mascaras were the key to a long-lasting lash look that didn't flake or smudge as the day went on. That said, Avendaño tells TZR that they are still a top option for those with oily lids and those wanting a no-budge look. What sets them apart from traditional formulas is that they include fewer oils and waxes, allowing the mascara to withstand a certain degree of water exposure.
This change, however, can sometimes cause the formula to clump when applied, making layering a bit more challenging. "Overpacking a waterproof mascara runs the risk of clustering the product on your lashes and flaking," says Avendaño. His pro tip for avoiding this is to first curl lashes before applying a generous coat from the base upward to lift the lashes as waterproof formulas tend to be weighty. "A couple coats is usually enough for an enhancing look, for the second coat I like to focus at the base and lightly build onto the length to keep clumps at a minimum."