At The Valentino Show, Pat McGrath Brought A Couture Approach To Makeup
"Luminous" doesn't even cover it.
Courtesy Of Pat McGrath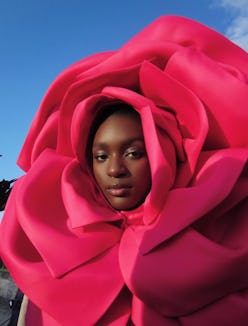 Like an aesthetic oasis in the oppressive July heat, this week's stretch of European haute couture fashion shows and (their hordes of celebrity attendees) offered an extremely promising glimpse at the trends and style technique expected for the coming fall and beyond. At Valentino Autumn/Winter 2024, things were especially future-focused, a parade of streamlined, functional-yet-opulent garments made all the more exciting by each looks' carefully-chosen beauty choices. The makeup at Valentino A/W '24 came courtesy of industry legend Dame Pat McGrath, who used the collection's theme as a springboard for her own interpretations. The result is a brilliant reflection of the line's central idea: universalizing the particular for a new, inclusive take on fashion's most notoriously exclusive week.
McGrath and her team made their way to France's Chateau de Chantilly, a historic backdrop carefully chosen to further represent creative director Pierpaolo Piccioli's vision for the show. Titled "Valentino Un-Chateau," the concept takes a famously restricted space (an actual castle) and opens it up to the virtual masses for something of a cultural reclamation. "We sought to complement [the theme] through the makeup, bringing forth a minimal yet extravagant approach to the look," McGrath tells TZR. "Our aim was to honor the beauty of inclusivity, reflecting the aesthetic in the collection."
Marc Piasecki/WireImage/Getty Images
Marc Piasecki/WireImage/Getty Images
Marc Piasecki/WireImage/Getty Images
Just as with the garments on the runway, each makeup look designed by McGrath is structured, tailored, and highly individual, with a brilliant streak of overt glamour. To let the clothing and the models themselves really take the spotlight, she and Piccioli hammered out a distinct, minimalist vision of the cosmetics. "The makeup is a reflection of its beauty and the freedom of individuality," McGrath explains. It all starts with the skin, which she describes as fresh, alive, and luminous, and accented by natural-looking blush for a just-pinched feel.
To further define the face, McGrath describes the eyes as "draped in whispers of taupe with a subtle shimmering gleam on the eyelids", which all look perfectly illuminated under the mid-day French sun. Finally, she layered on a generous helping of lip balm to lock in a healthy, hydrated look with some glamorous glazing.
Along with McGrath's cosmetic work, the models' hairstyling too followed the theme, adding in shine and polish while allowing natural textures, lengths, and cuts to flow freely. And while the manicures were largely all nude-colored and glossy, some were accented by finger-tip rings that simulated the look of long, sharp nails.
Overall, the show is an excellent example of what's possible when every piece of backstage creative work is aligned. "Working with Pierpaolo is always a joyous experience, as his approach inspires an exploration of beauty whether fully bejeweled or sublimely simple," McGrath says. "He always celebrates individuality, which I manifest through makeup by focusing on enhancing each model's unique features."