I'm Lazy With Makeup, But This New Lip Cream Gave Me A Perfect Popsicle Pout With Zero Effort
Meet your new summer staple.
Hannah Baxter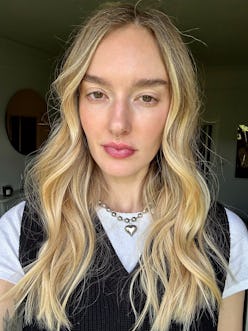 We may receive a portion of sales if you purchase a product through a link in this article.
In our series Trial Run, TZR editors and writers put the buzziest new beauty products to the test and share their honest reviews. This week, writer Hannah Baxter is testing Tata Harper's Lip Crème.
Everyone has their checklist of essentials when they're prepping to leave home for the day. Phone, keys, wallet, hand sanitizer, emergency Ibuprofen and Pepto (it's called being in your 30s in case you weren't aware). For me, a lip color is at the very top of the must-have list given that my natural lip shade is most aptly described as corpse-like. Similar to the rest of my skin, my pout is consistently pale and exceedingly dry, so I'm never without a hydrating product that can reinvigorate my complexion while still providing plenty of skin nourishing benefits. Basically I want my makeup products to do it all, so I was intrigued to test the new range of Tata Harper Lip Crèmes to see if they'd find a place in my ever evolving tinted lip care lineup.
While these aren't the first tinted lip options from the brand, the Lip Crème is the closest to a full-blown lipstick (as opposed to the existing lip-and-cheek hybrids). And according to the brand literature, the newest collection of five products — which launched today, June 8 — is designed to have a balm-like feel with "the vibrancy of a lipstick that rejuvenates the lip contour." I took that to mean that these products would feel more moisturizing and comfortable than a typical lipstick while still providing adequate color payoff. And given that Tata Harper is first and foremost a skin care company, I hoped that the brand could manage the same level of skin benefits while stepping further into color cosmetics.
Did the collection stand up to its claims, or did I relegate it to the back of my makeup drawer for all of eternity (or at least until my next spring cleaning)? Keep reading to find out more, and to see all five shades from the brand.
Fast Facts:
Price: $50 per lip crème
Size: 4 mL
Clean/Cruely-free? Yes
Best for: Makeup minimalists who don't want to spend too much time applying a lip color
Ingredient highlights: Fruit-based vitamin C & E from strawberry seed oil, cherry kernel oil, black currant seed, dragon fruit seed; pomegranate phytosterols to hydrate
What we like: Super balmy texture that feels great on the lips; beautiful color options
What we don't like: Doesn't last super long and the price is steep for a single shade
Your rating: 4/5
How TZR Keeps Score: 1/5: Making a return; 2/5: Keeping as a backup; 3/5: Finishing to the last drop; 4/5: Recommending to my group texts; 5/5: Already on auto-replenish
The Formula
Tata Harper is known for making luxe skin care formulas that utilize naturally-derived ingredients, and the Lip Crèmes are no different. The array of seed and fruit-based oils are flush with nourishing fatty acids and antioxidants to keep your skin moisturized and protected against free radical damage. The added elderberry is particularly exciting as it's a potent source of ferulic acid, which is able to boost the benefits of other antioxidants, most notably vitamin C. I'm also a major plum oil fan, so to see that on the ingredient list definitely piqued my interest — I've found it to be one of the most moisturizing options on the market with very little risk of irritation, even for people who have sensitive skin like me.
As for the shades themselves, the collection does include a straightforward balm, called Bare, which, as the name suggests, is completely colorless. Of the remaining four colors, Juicy and Bubbly — a bright raspberry and soft petal pink — apply more sheer, while Blasé, a rosy nude, and Risqué, a deep berry, are more pigmented. Together, the color options are reminiscent of a fruit popsicle variety pack, with no overly dramatic tones that you might find from other makeup brands.
My Typical Makeup Routine
Despite my career as a beauty editor, my daily makeup routine is usually pretty low maintenance. I always apply a cream blush — the Charlotte Tilbury Pillow Talk Matte Beauty Blush Wand in Pillow Talk Dream Pop is a recent favorite — and then fill in my brows with the KS & Co. Sheer Tinted Brow Gel in Medium Brown, swipe on some Tower28 Make Waves Mascara or Armani Eyes To Kill Mascara, and finish with (you guessed it) the day's preferred lip color.
Since it's getting warmer out in New York City, I've been gravitating toward vibrant orange-meets-strawberry hues, like Fenty Beauty Slip Shine Sheer Shiny Lipstick in Tang Thang, Sunnie's Face Lip Treat in Poppy, or Merit Shade Slick in Cara Cara, all of which keep my lips adequately hydrated throughout the day (although they usually require at least one touch up, if not more). For nighttime, I swap for a warm rosy shade like Chanel Rouge Coco Bloom in 116 Dream which has a bit more pigment, but is still extremely moisturizing.
My Experience & Results
After I finally got my hands on the full Tata Harper Lip Crème set, I noticed that the packaging for each color has a nice weight to it, decked out in glossy Tata Harper green with a magnetic cap, which is extremely satisfying. They feel expensive, and I loved that they're flashy without immediately advertising the brand when you pull it out of your bag, sort of a "if you know, you know" type of moment. It's stealth wealth in beauty form.
Given all of the oils in these products, I wasn't surprised to find that they're extremely balmy but still lightweight. I first applied each without a mirror to see how fool-proof the application could be, especially since I have a pronounced Cupid's bow and love when I can apply sans mirror. The more sheer shades, Juicy and Bubbly, were definitely doable, with minimal fixing required, but the other two shades could do with a mirror unless you've memorized your entire lip outline. The balm, obviously, needed no mirror whatsoever.
Right off the bat I noticed the scent, which is earthy and vaguely floral. Since the brand uses no synthetic fragrances, I gathered that the formula's natural botanicals provided the smell, which did dissipate for the most part after a few minutes.
To apply, I used about two full swipes around my mouth for the more pigmented Lip Crème colors, and three for the sheerer shades in order to get the color payoff I wanted. They glide on seamlessly but you'll need to be careful to define your lip edges since the Crème is a flat, rounded bullet as opposed to an angled lipstick. Overall, the pigment was comfortable and barely perceptible, if not the longest lasting, especially for the sheer options. They started to wear off, particularly in the middle, after about an hour of wear — faster if I was sipping a drink or doing a lot of talking. But because they're easy to reapply on the go, I didn't have to excuse myself to run to the restroom to touch up the color, which is a plus in my book. My lips also felt more hydrated than if I were to forgo a lip balm for a traditional lipstick, and there was no cracking or creasing which was a relief.
Testing the new Tata Harper lip collection
My bare lips.Hannah Baxter
Wearing the shade "Juicy".Hannah Baxter
Wearing the shade "Risque".Hannah Baxter
I didn't need to use the Bare shade before applying any of the other colors as they're all intensely hydrating on their own, but I'm thinking that I'll keep that on hand for days when I'm working from home and just want to moisturize my lips between Zoom meetings.
Testing the new Tata Harper lip collection
Wearing the shade "Blasé".Hannah Baxter
Wearing the shade "Bubbly". Hannah Baxter
Wearing the shade "Bare".Hannah Baxter
Is Tata Harper Lip Crème Worth It?
At $50, the Lip Crème is certainly not a cheap purchase but it is fairly comparable to most luxury brands, which hover around the $45 mark. Are there tinted lip balms or creams that are more affordable than this new launch from Tata Harper? Absolutely. But in my opinion, this type of product from this type of brand falls into the realm of simply wanting a beautiful lip balm — from packaging, scent, immediate feel, beautiful ingredients — as opposed to the most high-performance makeup available. It won't give you lipstick level results, but if you're at all interested in buying Lip Crème, that's probably not what you're after anyway.
For someone like me who has dozens upon dozens of lip products that she rotates through all the time, it might not stand out well enough to justify the expense. However, if, again like me, you already love the brand and you're looking for a stunning lip product that hydrates and has beautifully flattering shades that prioritize naturally-derived ingredients, then Tata Harper Lip Crème is arguably a quality option.