Florence Pugh's Latest Role Seals Her Reputation As An All-Time Beauty Inspiration
Courtesy Of Valentino Beauty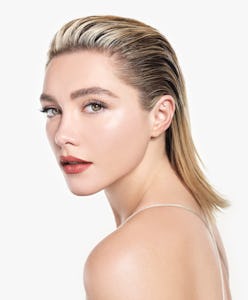 Cutting through the Hollywood noise requires more than just top-self acting chops these days. To truly ascend to the A-list, an entertainer needs charisma, authenticity, talent, and more than a little style — all of which the award-winning Florence Pugh has in spades. It makes sense then that the woman equally beloved for her versatile filmography and penchant for avant-garde beauty looks would land the latest job on her lengthy resume. Florence Pugh's Valentino Beauty ambassadorship — just announced in tandem with a makeup campaign — is her newest role, but it's one she was truly destined for.
As the brand's freshest DI.VA (that stands for DI.fferent VA.lues, Valentino's distinct breed of creative muses), Pugh's a living, breathing representation of the house's best-selling makeup line and the free-flowing creativity it stands for. While Pugh's fashion choices on and off the red carpet are consistently unassailable, beauty is where she really lets loose and shines. Just think, at her very first Met Gala this May alone, she personally introduced one of the event's most talked-about hair-makeup combinations of the entire evening. Fashion fans know that Pugh's worked closely with Valentino in a more sartorial capacity for a while now, making the extension into beauty feel all the more natural.
The personality-brand alignment is maybe summed up best by press materials sent to announce the new partnership: "Florence has publicly spoken about feminism, stood up against body shaming and shared her views on respecting diversity — not only respect for women but respect for everyone," the release reads. "The perfect fit to convey what Valentino Beauty is renowned for: a couture brand that that celebrates the extraordinary in each individual."
Thanks to their longstanding, existing relationship, Pugh's worn Valentino garments to some of her most major milestone events. Now that it's only strengthened by the new beauty component, expect even more experimental, edgy, and self-expressive makeup looks from the star. Fittingly, Valentino Beauty announced the new campaign in tandem with the release of the Liquirosso Lip and Cheek. Something says that this won't be the only exciting announcement from Pugh and Valentino this summer — keep one smoky-shadowed eye open.