A Memorable Summer Vacation Doesn't Have To Kill Your Budget
wildart/E+/Getty Images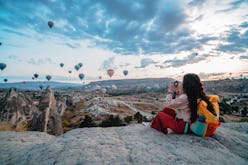 So you haven't planned your summer vacation yet and you decided to check on flight prices? Well, you're in for a rude awakening. "Airfare is up compared to last summer, and where travelers are seeing the most sticker shock is for flights to European destinations," says Christie Hudson, head of U.S. public relations at Expedia. It's not hyperbole either. "We're regularly seeing $2,000 fares in coach to popular destinations like Rome," says Clint Henderson, managing editor at The Points Guy." You can blame the costly tickets on a number of reasons like inflation and labor shortages but the biggest push behind these prices is the increased demand. Everyone is still feeling that post-pandemic urge to travel and they have both credit card points and cash saved up. Combined with airlines and hotels cutting back on what they can offer, and you have a recipe for absurdly high prices, especially to popular destinations like Europe.
But not all hope is lost and even if you're not sitting on a pile of points there are still ways to go on a trip this summer without blowing your budget. "Try the first two weeks in June or the last two weeks in August. Not everyone is on the same school schedule in the US, but you can be sure everyone is off mid-July, when airfare tends to be uber-pricey. If you can skirt the edges of the vacation calendar, you can luck out and sometimes find airfare up to 40% less expensive than the height of summer," says Katy Nastro, travel expert at Going. Another helpful tip, if you do have your heart set on expensive destinations, is to do a little creative booking. Forget the major airlines and opt for an inexpensive carrier like Norse Atlantic, French Bee, or Tap Portugal. And lastly, Nastro suggests flying into a cheaper city and looking into a budget flight from the likes of RyanAir or EasyJet in Europe or Scoot in Asia, to get you where you want to go.
That being said, if you're open on where to go this summer and your only goal is to have a great vacation, these experts have a few suggestions in mind for places that are still relatively affordable. Ahead, six destinations worth looking into for your next trip.
Chicago, Illinois
Nastro recommends Chicago as an inexpensive, quick getaway, especially if you're looking for a bustling urban experience. "With an easy-to-navigate public transportation system, an incredible food scene (top chefs galore), plus an expansive freshwater lake where you can cool off after sightseeing many of the free public attractions, it's a city escape without the big city prices," she says. Thanks to two airports that are relatively close to the downtown area, airfare from the East Coast can be as low as $100 to $250 roundtrip while West Coast hovers around $200 to $350 for travel during June.
Las Vegas, Nevada
Another spot where prices are lower than normal is Las Vegas, says Hudson, who recommends the location as a quick weekend getaway. Deals tend to pop up all summer long with flights from most major cities well under $300 for round trip. Yes, it'll be hot and yes, the city is notorious for casinos and clubs but even if that's not your vibe, there's plenty to do from restaurants to pools to shopping and more. Plus, it's a good time to catch a show — the likes of Adele, Usher, and Katy Perry have residencies at the moment.
Curaço
If your heart is set on a beach trip, instead of Mexico or any of the more well known Caribbean islands, Nastro recommends checking out Curaço. "The "C" in the ABC Island chain, just off the coast of Venezuela, is a Dutch Caribbean island with sunshine all year round, plus it's just outside the hurricane belt," she says. You'll find colonial architecture in the capital of Willemstad that's reminiscent of the Netherlands plus be able to enjoy any of the 35 beaches that circle the island. The drive from tip to tip is around two hours, making it easy to explore the coast as well as the national parks. Often overshadowed by other, more well known islands like Aruba, it might cost a bit more to get to but can be far more affordable in terms of accommodations, food, and activities. "Average deals we see range from $327+ round trip, but during a peak season like the summer we are seeing $550 from NYC, and $405 from LA, both round trips in August at the time of writing," Nastro says.
Bogota, Colombia
Speaking of South America, Henderson is also a fan of heading there during the summer. "The dollar goes far and flights can be really inexpensive. I've had a fabulous stay at the Grand Hyatt in Bogota, Colombia for just $127 a night while a Four Seasons can be around $282 a night," he says. The sprawling city, which sits at 8,600 feet above sea level at the base of the Andes Mountains is best known for its coffee and world class restaurants but also offers a chance to experience both the array of indigenous cultures as well as the Spanish colonial architecture. Flight prices are hovering between just under $300 to $400 roundtrip from New York for travel in either June or August while Los Angeles is comparable, with prices at the $400 mark for those same months.
Turkey
So you want to go somewhere a bit further and you're okay with spending a bit more on a flight? Henderson suggests Turkey, a spot where the dollar is particularly strong at the moment. "You can stay in a five-star hotel for as low as $200 a night which you won't find in Europe. I see itineraries on Turkish Airlines from LAX, JFK or SFO for around $1,100 but if you can travel in September flights drop to under $800," he says. He recommends combining it with a stay at the luxurious five-star Ciragan Palace located on the Bosphorus River for as low as $575 a night but if you're looking to save, the DoubleTree by Hilton is equally as lovely for around $180 a night.
Bangkok
Heading to Asia, regardless of the time of the year, can get pricey but with the likes of Japan, China, and Hong Kong all lifting their pandemic restrictions, demand is soaring this summer. Hudson says that while technically it's still an expensive ticket, flying to Bangkok could be an option as the average price is lower compared to 2022. Once there, it's easy to explore other areas of the country like Chiang Mai, Koh Samui, Krabi, and more. Hotels like the Four Seasons Koh Samui are under $400 per night while other five-star resorts can be as low as under $200 per night. And if you're a fan of White Lotus, season three is confirmed to be in Thailand so it's a chance to experience the country before the show comes back on air.