You Can Easily Restore Your Skin Post-Summer With These Treatments
tktk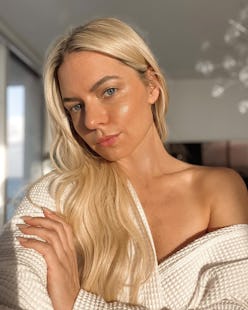 As the seasons shift and autumn makes its way into focus it's natural to want a fresh start. Whether you're updating your home or wardrobe to complement the hues of the season or are completely revamping your makeup routine, it's safe to say that this is a time of revitalization. When it comes to your skin, a shift is also in order, and not just in your daily and nightly skin care products. Before you begin swapping out your formulas, there are a number of skin treatments to help revive your post-summer complexion.
Yes, even as the season fades away and the days bring less sunlight, the signs of months of intense exposure often linger. And even with the best at-home care, a season filled with beach days and exotic island vacations can leave the surface of the skin looking a little lackluster. Luckily, the addition of a facial or laser treatment can be just the refresh your complexion needs.
Ahead, TZR rounded up the best non-invasive in-office treatments to give your skin a well-deserved boost of vitality. Whether you're dealing with acne, discoloration, or vexing fine lines, there are a few options below to get your skin in good shape.
Acne
Seasonal breakouts are not uncommon during the summer months thanks to increased sweating and the use of sunscreen and lotions that may clog the pores. Topical creams with prescription–strength actives are helpful, but certain facials can also be beneficial to deeply cleanse the skin.
Hydrafacial
A popular treatment that has seen viral success, the Hydrafacial works to correct a number of common skin concerns with radiant results. However, aside from its glow-giving abilities, it's also a great option for those managing post-summer breakouts. "The Hydrafacial uses a patented vortex wand to suction oil, dirt, and buildup out of the pores and infuse hydration and moisture back into the skin," says Merry Thornton, PA-C, board-certified physician assistant, licensed skincare expert, and founder of Element Medical Aesthetics in New Canaan, Connecticut.
Blasting away the grime deep within the pores is just the first step to reconciling pesky breakouts, as you can also opt for blue light therapy with your Hydrafacial to eliminate the bacteria that causes acne. Beyond the surface, Thornton notes that this particular facial is great for spot-treating as it can deliver high concentrations of active ingredients like salicylic acid or niacinamide into the skin. "These are commonly known as boosters and can further prep the skin to prevent future breakouts," she says.
AviClear
Lasers are another effective method for treating breakouts and the frequent dark spots they leave behind. Of the many on the market, Dr. Howard Sobel, a clinical dermatologic surgeon at Lenox Hill Hospital in New York City recommends AviClear to combat acne formation at the source. The innovative laser, newly released about a year ago, is the first of its kind and effectively treats varying levels of acne for long-term relief.
As Dr. Sobel explains, AviClear works by suppressing the sebaceous glands to regulate sebum production. Whether you naturally have oily skin or are just looking to decrease the amount of oil produced for a short time, this can be a great option for treating seasonal acne sans prescription medications. "It takes about three sessions over four to six weeks but it's s extremely effective for mild cases. Downtime is also limited and you don't have to consistently expose your skin to harsh topicals," he adds.
Discoloration
Sun exposure is the most common cause of discoloration so it's no surprise that summer can increase this concern. Treatment time can differ depending on how intensely affected the area is, but noticeable fading can occur with these specialized lasers.
Clear + Brilliant
Dr. David Kim, MD, MS, board-certified fellowship-trained cosmetic dermatologist at Idriss Dermatology, tells TZR that laser treatments are best when you're looking to improve tone and even out your complexion. For those with minimal discoloration, he recommends Clear + Brilliant as it provides results with a gentle approach. "The resurfacing laser lightly resurfaces the skin and is great for after-summer skin that has seen a touch too much sun," he says. As far as lasers go, Dr. Kim explains that the process is one of the most tender and is therefore a good option if you're new to laser treatments.
Sessions are quick and involve the use of a fractional laser which creates microscopic injury zones in the upper layer of the skin. This helps slough away build-up and dead skin cells and causes the skin to shift into "repair mode" stimulating collagen production and ushering in new and healthy tissue. "Ultimately this results in a reduction of dark spots and improved tone," says Dr.Kim.
Fraxel
On the other hand, if your discoloration is a bit more significant, Dr. Kim suggests opting for a Fraxel laser treatment instead. In a similar fashion to Clear + Brilliant, it works by removing the epidermis layer and replacing it with new tissue. According to Dr. Sobel, Fraxel is most ideal for discoloration because it quickly targets the damaged area and effectively removes cells that have been impaired by sun exposure. In fact, this laser treatment is at the top of his list for both patients and himself post-summer. "Moving into fall, it's important to repair the skin's surface not just for appearances but also in preparation for the colder months to come and this does the job fast with minimal downtime," he says.
Dehydration
It's no secret that sun exposure can lead to dry skin. But the issue often becomes exasperated with increased time spent under the sun's rays. That said, boosting your skin's hydration levels can be advantageous for restoring its radiance.
Glo2Facial
Previously known as Geneo, the Glo2Facial uses a unique method to thoroughly oxygenate and detoxify the skin. The star of this facial treatment is the patented technology which naturally increases the body's oxygen levels in order for a deeper penetration of active ingredients. "Glo2Facial is based on a three-step process of OxfoliationTM, LUX (lite ultrasound experience), and detoxification, delivering immediate and long-lasting results," says Rosemarie Holcomb, Senior Vice President of Marketing for Geneo. The system alone can provide a range of benefits to the skin, but thanks to a series of customized treatments, you can easily target concerns like dehydration and dryness.
Dr. Neil Sadick, MD, board-certified dermatologist and owner of Sadick Dermatology in New York City, previously told TZR that "sun rays often damage the lipid barrier, which is needed to retain moisture, and leads to increased water loss." That said, a treatment utilizing ingredients tailored specifically for barrier restoration can be beneficial for combatting dryness. For those experiencing dry or dull skin, the Hydrate Treatment incorporates a proprietary blend that includes antioxidant and anti-bacterial components to remove impurities and enhance moisture retention within the skin's barrier.
Aquagold Facial
Air conditioning is another common culprit of dry skin during the summertime and combined with the heat from the sun, it's no wonder skin is deprived of moisture. To quickly improve hydration levels and give your skin a rejuvenated look, Thornton suggests giving the Aquagold facial a try. "This microneedling treatment uses tiny gold needles to infuse a customized cocktail of ingredients into the skin," she says. As she explains, your 'cocktail' can be created with a variation of components but common ingredients include hyaluronic acid and Botox. "With these two particular items, you can quickly draw water back into the skin and even shrink pores to brighten tone and improve texture."
Wrinkles & Fine Lines
As one of the most notorious causes of aging, the summer sun often brings wrinkles and fine lines into focus. Sunscreen is a must year-round and is especially important during this season, but there are a few non-invasive ways to keep these concerns at bay.
Genius RF Microneedling
According to Thornton, the best way to address post-summer fine lines and wrinkles is to turn over skin cells to stimulate the production of collagen and elastin. The Genius works to do just that by creating microtrauma to the skin's dermis level in order to trigger natural healing responses. "Unlike traditional microneedling, this treatment uses insulated needles to deliver high heat, from radiofrequency [RF] waves, beneath the surface," says Thornton. She explains that the RF portion of the treatment denatures old collagen and urges the skin to produce more copious amounts of collagen. Though cumulative sessions will yield the best results, she states that it can visibly improve skin quality in just a few days.
Vivace
Another form of RF microneedling effective for treating wrinkles is the Vivace treatment. "This is a nice option because it effectively delivers healthier, firmer-looking skin quickly," says Dr. Sobel. The multi-tasking treatment uses a combination of microneedling, LED light, and radio frequency technology that work in tandem to provide both long-lasting and immediate results. The microneedling portion of the treatment drives anti-aging collagen and peptides deeply into the skin for instantly visible results. But Sobel explains the reason why Vivace is so effective is due to its combined approach. "After the dermis has been penetrated, RF technology speeds up collagen production as the LED lights work to diminish redness and accelerate the healing process." And the result, as he notes, is nothing less than revived skin.