Is Exosome Therapy The Future Of Healthy Skin & Hair?
Dermatologists explain the trending treatment.
@b_bangg_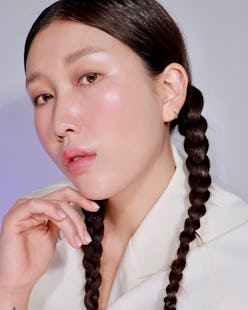 Our skin is designed to heal itself, but like the need to down a shot of espresso to get going into the morning, sometimes the organ needs an extra kick. That's where exosome therapy comes into play, the latest trend in the aesthetics space. Falling under the regenerative therapy umbrella, a category of treatments that use stem cells or platelets (like in PRP) to replace or "regenerate" the skin in order to improve texture and tone, exosomes are poised to become the next "It girl" in skin care. And like PRP, this treatment can also be used to treat hair loss by stimulating the hair follicles.
Until recently, exosomes were dismissed as mere byproducts of cellular activity, but recent research has revealed their incredible potential to transform how we approach skin care and hair care — a modern-day Cinderella story, if you will. Especially because the science behind the treatment has a long-lasting, holistic effect rather than arguably functioning like a Bandaid for skin concerns like Botox and many fillers do. "Exosomes are usually derived from stem cells and contain signaling molecules and growth factors designed to stimulate regeneration and healing," explains Dr. Julie Russak, M.D., board-certified dermatologist and founder of Russak Dermatology Clinic in New York City.
But, as with any trendy new beauty treatment, it's important to get the facts before touting it as a game-changing innovation. Ahead, TZR gets the lowdown on exosome therapy with the help of a few dermatologists, including its benefits and whether or not it lives up to its promises of healthy skin and hair.
First, What Are Exosomes?
To put it simply, exosomes are tiny vesicles (bubbles) that help cells communicate with each other. When they are injected into tissue, they can reprogram surrounding cells to start growing and regenerating. These vesicles contain amino acids, proteins, lipids, peptides, and growth factors, which are all beneficial to the skin and hair. This manifests aesthetically as improved skin texture, increased hydration, reduced fine lines and wrinkles, and improved overall skin tone and brightness. They can also promote hair growth by stimulating and strengthening hair follicles, and promotes thicker strands.
It's important to note that exosomes need a little help to work their magic. When applied topically, they are unable to penetrate the skin's surface and end up just hanging out on the outermost layer. To be effective, they must be infused deep into the epidermis, which is why they are typically used in conjunction with other treatments that create disruptions in the skin like resurfacing lasers or microneedling (a technique that creates tiny channels on the skin's surface). The therapy can also be combined with other regenerative therapies, like PRP or stem cell therapy, to further enhance their effectiveness.
Another reason why you won't see the vesicles on the inkey lists of skin care products at Sephora? "Exosomes are highly fragile and need to be refrigerated at cold temperatures; they cannot survive for long outside of these conditions. So, for example, a cream touting exosome technology could possibly possess [similar] benefits, but the end product is non-living, and more testing needs to be done to determine the biological effect," explains Dr. Sanjay Batra, Ph.D., a regenerative medicine expert.
The Benefits Of Exosomes In Skin Care
Exosomes are an excellent solution for tackling wrinkles as these tiny vesicles can effectively stimulate cell growth and repair. "Due to their unique ability to transport to directed sources, they are far more efficacious than simply applying peptides or growth factors directly on the skin," explains board-certified dermatologist and founder of Ocean Skin & Vein Institute, Dr. Divya Shokeen, M.D. ​​Anyone looking to bring a bit of vibrancy back to their face can benefit from the therapy, as it increases collagen and elastin production and the dermatologist says, "has been shown to have a significant visible reduction in fine lines, aging, and sunspots." What's more, exosomes have anti-inflammatory properties that can help calm skin. Research also shows they can minimize the symptoms of psoriasis and atopic dermatitis.
Within just one week of treatment, you may notice an improvement in texture, tone, firmness, the appearance of pore size, and the look of fine lines. Continued use of exosome therapy can lead to "long-term improvements, resulting in healthier, stronger, and more youthful-looking skin over time," adds Dr. Russak.
The Benefits Of Exosomes In Hair Care
Exosomes not only trigger healing and tissue regeneration on your face, but also in the cells of hair follicles on the scalp, which results in a stronger potential for regrowth in those experiencing hair loss. Russak explains, "By delivering these molecules to the skin on the scalp and directly to the hair follicles, we can provide intensive hair rejuvenation benefits and signal the hair follicles to grow healthy hair. When hair follicles 'quit', we deliver both exosomes into the scalp to awaken the follicle and stimulate hair growth."
While many people turn to PRP injections for hair growth, Dr. Russak notes, exosomes are the superior option compared to PRP due to their increased potency and reliability. Unlike PRP, which is derived from platelets in our blood, the vesicles are extracted from stem cells found in sources such as fat, umbilical cords, or bone marrow. "The growth factors in our PRP may be weaker depending on our age and health status," she explains. "Exosomes contain growth factors and signaling molecules for regeneration and healing, which are extracted from inside the fresh cell. Many are also from embryonic stem cells, which are brand-new cells that have the most regenerative potential possible." Research also shows that they can help cells grow and heal wounds better than PRP can – without having to use a patient's own blood.
Exosome therapy is paving the way for a new era in beauty treatments that prioritize skin and hair regeneration over simply masking common concerns like visible signs of aging. With the ability to promote natural healing and rejuvenation, this therapy offers a promising solution for those looking to keep their skin and hair in tip top shape for the long term.